We want to point out the importance of alternative and self-organised programmes, events, screenings, exhibitions, etc., which are located outside of or parallel to the white institutions, the white walls, and the white gaze. That is why we have chosen these three highlights from 2020.


Vest for Paradis, Andromeda 8220, Aarhus. Curated by Aysha Amin
Vest for Paradis (West of Paradise) is a site-specific pop-up cinema that screens films where it makes the most sense to do so. Based in the Gellerup suburb of Aarhus, Andromeda is a safe-space art platform with a global outlook that seeks to enrich the local area and make art more relatable and accessible to all. Taking the film medium and cinema experience back to the streets, Vest for Paradis plans to screen thirty films. We love everything Andromeda does! Film screenings, artist talks and debates, performances and walks, DJ workshops, and the production of t-shirts and zines. Launched in 2017 by a group of locals, it is now a collectively run initiative with regional, national, and international partners. Andromeda exhibited at the Berlin Biennale 2020 and in the American Pavilion at the Venice Biennale in 2018.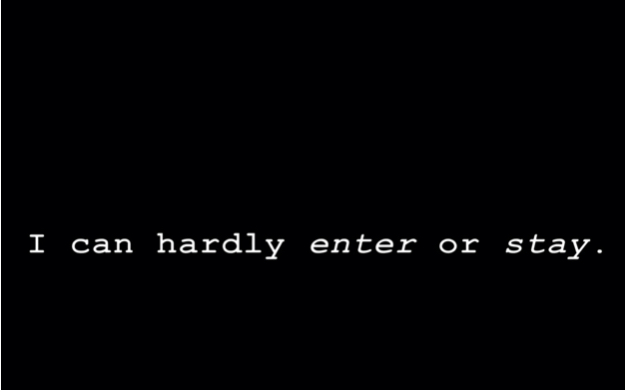 Aftershocks, Charlottenborg Art Cinema, Copenhagen. Curated by Mai Takawira
During the Black Lives Matter protests this summer, Mai Takawira curated a film programme that pointed to some of the aftershocks trailing in the wake of colonisation and the slave trade in Danish contexts. We think it is important for white institutions to take a direct stand on what is happening right now and create spaces for reflection and rallying. 'Aftershocks' was an excellent example, offering a beautiful selection works by both local artists, such as Emil Elg and Jeannette Ehlers, and international stars such as Forensic Architecture. It was, as Takawira stated, a collection of artists who "ask questions about the museum space, literature, history writing, the asylum system, and EU border policy. An accumulation of disobedience manifests itself while creating a movement, a backlash, an insistence on existing; that Black Lives Matter."


Anonyme Billedkunstnere, The bust of The Royal Danish Academy of Fine Arts' founder thrown into Copenhagen harbour, Copenhagen
Without a doubt, one of the most important art events in Denmark in 2020 was the action carried out by Anonyme Billedkunstnere (Artists Anonymous), who threw an old plaster copy of a bust of some king Frederik or other into the Copenhagen habour canal. Finally, Denmark is taking part in pulling the old colonial masters and their clan down from their pedestals. It is an act of solidarity that speaks to the many other statues being taken down around the world. The action was documented with a beautiful video and a critical text: "We want an art world that responds and accepts responsibility – not only for the actions of the past, but for the ways in which colonialism is still active today." We concur wholeheartedly, and look forward to seeing more!
– FCNN (Feminist Collective With No Name) was founded in 2016 and now consists of Dina El Kaisy Friemuth and Anita Beikpour. For the Berlin Biennale 2020, they contributed the platform Hydrocapsules.love in collaboration with Neda Sanai.
For this year's contributions to Kunstkritikk's Advent Calendar, see here.