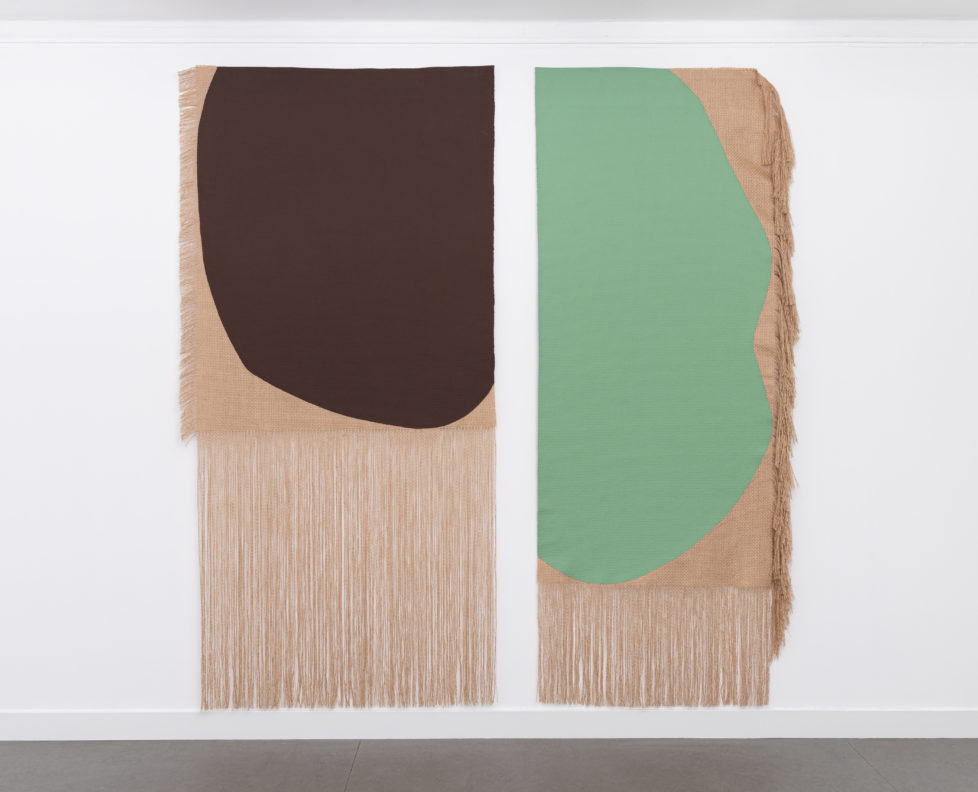 For my part, this autumn's art season kicked off with Hanne Grieg Hermansen and Anna Gudmundsdottir's exhibitions at Tegnerforbundet (The Norwegian Drawing Association). Gudmundsdottir shows somber, jagged collages, and paintings that look like Daniel Buren's striped canvases stretched over the entrance to an inhospitable cave. Hermansen's labour-intensive pencil renderings of light also teeter on the semi-sublime, contrasting the more managerial relation with nature that seems to be de rigueur in Norwegian art this autumn. It nearly rekindles my faith in the possibility of an autonomous image.
Ingrid Lønningdal opened an exhibition last week at Kunstnerforbundet (The Artists' Union), where industrial architecture has inspired paintings made of silicate paints applied on straw. At the same venue, Fredrik Værslev has reconstructed the dado that previously adorned the skylight room. Above, the artist has hung a series of paintings in walnut frames designed to look like four-pane windows, casting his stain-and-dot paintings as flower meadows. A more integrated mode of landscape painting was served up earlier this month in Mikael Øye Hegnar's exhibition in his own garden. The show was organised by 1857, a gallery with no fixed abode, now commencing its final six months in operation. Slips between outside and inside, landscape and image, are also the focal point of the exhibition Skjermdump (Screen dump) by Jan Freuchen, which opened at the Norwegian Sculptor Society last week. Concurrently with Freuchen, the venue also presents Jannicke Låker's laconic video portrait of a lonely woman who, surrounded by dark seas, strives to get back into her boat.
Mikael Brkic's Fire and Forget, which opened at UKS (Young Artists' Society) last week, revolves in eclectic fashion around a Norwegian naval missile from the 1960s. Unrelated to Brkic's exhibition, but still worth mentioning, is the fact that the UKS joined the artists' union BOA in hosting an "arts policy roast" this Wednesday at Kunstnernes Hus, where local politicians will be asked to account for their respective parties' policies on art and culture ahead of the municipal elections later this fall.
Kunstnernes Hus opened the autumn season with a new instalment of its film and video programme Silver Series, this time presenting British artist Ed Atkins's morbid, melancholic animations. The connection to Maria Pasenau's Instagram-inspired photographs, on view at Fotogalleriet starting this weekend, may not be obvious, but she too invites reflections on the impact of (media) technology on human self-relation. Generalising the theme even more, one might add the photographs of Thora Dolven Balke, presented at Melk gallery next week, in which the human body is ceaselessly presented in states of dissolution and distortion. With the unapologetically sentimental title Human Touch, this year's instalment of the Drawing Triennial, opening at Kunstnernes Hus in early November, seeks to counterbalance this accelerating loss of integrity; curator Helga-Marie Nordby wishes to highlight the act of drawing as a "fundamental form of human expression."

In September, 222T, one of the more recent additions to the artist-run scene in Oslo, shows the Norwegian graphic artist and draughtsman Albert Jærn's (1893–1949) woodcuts from the German Occupation, described as "a material testimony to the power of artistic resistance in hours of darkness." From mid-September, at Blaker gml. meieri outside Oslo, the Danish textile artist Inge Bjørn (b. 1925) will present works dating back to her collaboration with Asger Jorn.
Between categories
Munchmuseet on the Move pushes on with its feted combination of queer politics and investigations into the geography and history of Oslo. First off this autumn is a film cabaret based on the social and cultural scene of 1930s Oslo, fashioned by the duo Maria Bordorff and Kirsten Astrup. Drawing inspiration from sources such as the photo archives of Nationaltheatret, Rainer Werner Fassbinder's Querelle (1982), and Per Krohg's murals at Oslo Sjømannsskole (Oslo Sailors' School), the film premiered yesterday and runs through September.

When the exhibition Edvard Much and Käthe Kollwitz closes in late September, Kunsthall Oslo will end its collaboration with the Munchmuseet (for now, at least). In mid-September, Euronoize will open at its premises in Rostockgata. The exhibition is part of a collaboration with Reading University, Pil & Galia Kollectiv, and the exhibition venue ARE from Prague, which explores "hybrid, experimental projects that fall between the opportunities offered by the music world and the art gallery system." A large video jukebox featuring art and music projects from all over Europe will be accompanied by a programme of live music that runs through October.
In early September, Kunsthall Trondheim will open an exhibition with Anna Daniell, who will presumably remain true to form and seek to bring her sculptures to life by changing the coordinates governing their encounter with the audience. Concurrently, the kunsthall will exhibit photographs and film works by Danish-Greenlandic artist Pia Arke (1958–2007), addressing the imprint of colonialism on Greenlandic landscape and identity. On 12 September, Kunsthall Stavanger will open an exhibition featuring Glasgow-based artist Ciara Phillips, known for her interest in the political and social potential of graphic arts.
Endings and relocations
This summer, the Astrup Fearnley Museum announced that Gunnar Kvaran will step down as director after the new year. In an interview with Kunstkritikk, he emphasised that the museum is more than simply a showcase for international art; it also aims to educate the public. The museum's main exhibition this fall is the touring Gilbert & George retrospective The Great Exhibition, which was on display at the Moderna Museet in Stockholm last year. Kunstkritikk's reviewer described the exhibition as a "satirical multicultural amusement park" that provided the spectator respite from the "institutional superego." Despite the Astrup Fearnley Museum's avowed educational agenda, a strained relationship with this institutional superego seems a common denominator for the tier of artists the museum has embraced during Kvaran's reign: Jeff Koons, Takashi Murakami, Damien Hirst, and Alex Israel.
Also worth mentioning is the fact that Prosjektrom Normanns in Stavanger will close down after eight years of operation. Its final shout will be an exhibition featuring Tegneklubben (The Drawing Club) in December. Before that, however, is a presentation by Jon Benjamin Tallerås, who has made a name for himself with a distinctive, jovial, anarchist hybrid of dérive and parkour. Rogaland Kunstsenter – which has had a somewhat lacklustre exhibition programme in the interim between former manager Geir Haraldseth's departure and the arrival of his successor, Helga Nyman – is planning an exhibition with Herman Mbamba and Christian Tony Norum this autumn, probably in early October. Painting with a neo-bohemian flavour is expected to be prominently featured.
Things are on the move in Oslo, too: both VI, VII and the artist-driven Destiny's are on hiatus until they settle into new premises. Destiny's is scheduled to be re-inaugurated in November, opening in Bogstadveien with an exhibition featuring the painter Liv Ertzeid. Exactly when and where VI, VII will reopen remains uncertain as yet. Akershus Kunstsenter – also due for relocation soon – has two exhibitions arranged this fall, most notably the inventively titled The Chief's dear squaw gets some pizza in Mexico City, where Slavs and Tatars and Lawrence Abu Hamdan appear alongside London-based Nils Norman and Oslo stalwarts such as Andrea Bakketun, Sara Christensen, and Allyce Wood. What engendered this enigmatic combination is still a mystery.
Away from this world
Apart from the various biennials and triennials, idea-driven group exhibitions are few and far between at Norwegian institutions; solo shows featuring mid-career artists are the dominant format. One of these is Sandra Mujinga, who will exhibit her work at Noplace in Oslo in September and then reappear in November at Bergen Kunsthall with her biggest exhibition to date, comprising new and older works alike, including a large-scale video installation. The exhibition text promises coy identity games and yearning for political change.
"Green economic growth is an illusion," proclaims the trailer for the video Den veganske tannbørsten (The vegan toothbrush, 2019) by Trygve Luktvasslimo, now accessible on the website of the Lofoten International Art Festival (LIAF), which opens this weekend. Hilde Mehti, one of the festival's curators, attracted attention with the three-year project Dark Ecology, a series of excursions and events in the border areas between Norway and Russia, inspired by ecocritical and object-oriented thought. There is reason to believe that LIAF 2019, which "takes its inspiration from the multitude of inhabitants, materials, struggles and processes that reside and take place within the extremely wide intertidal zone surrounding the Lofoten Islands," will also be deeply concerned with the conditions for non-human life.
Every bit as committed, albeit with a more human focus, is this year's instalment of the Bergen Assembly triennial. Strictly speaking, it has already been going on for a while, but the main event is due on 5 September, when the triennial will extend across almost all available exhibition venues in the city, from artist-run galleries to kunsthalles and art centres. This year's triennial is particularly vocal about its political intentions, setting out to defy what it describes in characteristically unforgiving terms as "the prevalent politics of death" – a dysphemism for illiberal right-wing populism paired with habitat-destroying capitalism.
In collaboration with Bergen Assembly, the Bergen gallery Entrée will present artists Anne De Boer and Eloïse Bonneviot in September, followed by an exhibition featuring Kristin Austreid in mid-November, presumably consisting of meticulously executed and optically confusing figurative works with a pronounced haptic quality, similar to what she showed at Galleri LNM (The National Painters' Organisation), in Oslo, last year. In late November, Hordaland Kunstsenter will re-emerge from its Assembly collaboration with a presentation featuring Norwegian-Swedish artist and poet Ingrid Furre. I expect soberly arranged compositions of materials that remind of dismantled furniture. Before that, from 20 September, you can see Cristina Lucas address the history of air raids in a three-channel video installation at Kunsthall 3.14.
In addition to a marked focus on public spaces as a setting for art, the Oslo Biennale, like its Bergen counterpart, is dispersed in time. The first part took place in late May and the projects are still on view around the city. Several of the participants from the previous round are included in part two, which launches in early October. There is every reason to look forward to the next instalment of the collective Rose Hammer's series of performances National Episodes, which retells excerpts from Norwegian history in the form of didactic pieces inspired by Brecht's Lehrstücke. Øystein Wyller Odden's musical stylings based on the murmurs and hum of the electric mains are also highly anticipated. The latter can be experienced in late September when Kraftbalanse (Power balance), a composition for alternating current, piano, and orchestra, premieres at the Ultima festival.