To protest is to be present. Present with the body. It is the body that matters.
On 22 October 2020, when the constitutional tribunal in Poland ruled a total abortion ban – that is, let's say it clearly, the compulsion to bear terminally ill foetuses – thousands of people took to the streets to protest. Manifestation on such a scale had not been seen in the country since the 1980s when the Solidarity movement led to the collapse of the Communist regime. This controversial decision was, unfortunately, just one among many introduced by the current right-wing government. Since the Law and Justice party (PiS) won the 2015 parliamentary election (and got the majority again in 2019), it has gradually begun the process of dismantling the democratic state by defying democratic norms with assaults on the media and the courts, limiting nongovernmental organisations, not respecting minority and human rights, and encouraging hatred towards 'others'.
Don't be silent
In a Morgenbladet article published on 16 April this year, Norwegian solicitor Aurora Lindeland Geelmuyden expressed her worries about the changes in Poland and asked what we in Norway could do to work against it. I can respond in only one way: Don't be silent. International voices – such as the Belgian politician Guy Verhofstadt, or, especially, the German politician Terry Reintke advocating for democracy and women's rights – are heard, and they bring hope.
Among the major problematic bills pushed forward, there are countless details not always visible to the international press. For instance, the destruction of Poland's most important theatre scenes and cultural institutions, and partially 'successful' attempts to politicise academia and science. The list of wrongs is long. In 2019, I wrote a piece for Hyperallergic on how the atmosphere of everyday hate impacts society. Right-wing politics has a huge impact not only on culture, but also on the lives of citizens and the functionality of the state.
It is also true, however, that in the last few years working conditions have improved and some measures have been introduced. But low wages, junk contracts (many people, especially cultural workers, without basic health insurance, not to mention the right to a pension), weak labor rights, no real unemployment securities, scarce solutions for single mothers (especially with disabled children), multileveled inequalities, misogyny, cronyism, and hierarchical patriarchal structures, are all still part of daily reality. The social and political disdain for those without privilege (especially women) finds its confirmation in everyday observations and experiences: male-only panel discussions on 'public television', sexist jokes at work, and harassing or racist comments in the public space are not particularly rare. The #MeToo movement in Poland brought discussions and some awareness, but only touched the tip of the iceberg, and many things still need to be changed. Even the Polish left (which currently has 10 per cent in the parliament), which is pro-choice, and open to equality values, has to be seen through a more complex lens.
The abortion ban expresses disrespect towards women as well as the need to control their bodies. Or, more precisely, the bodies of unprivileged women. Clandestine abortion is thriving in Poland. Whether to have one is a question of cultural and social capital, plus money for a private gynaecologist or a ticket to Berlin – or anywhere, really, that will take the problem away. What is hopeful to note, however, is the fact that within the last half year public support for abortion on request has been growing and the subject itself is present in mainstream media.
As the world's attention has turned towards Poland during recent months, articles devoted mostly to the changes in art institutions have appeared in international art magazines. My impression is that art critics generally use a political element to attract attention to themselves, making various actors and politics visible while leaving out all nuance – and most importantly art. I don't think that politics needs more visibility and presence than it already has, or at least not in this way. In this text, I will leave space for women creatives from various generations, to listen to their voices of disagreement, in order to see protest (and politics) through art. With one important remark: it is impossible to refer to the art of protest in Poland without including the theatre tradition and its contemporary practitioners.
Women's labor: invisible and unheard
In Maintaining the Artistic Position (1989) the storytelling performer Ewa Zarzycka stands in front of a large audience and expresses her doubts on being an artist: "Do I deserve to perform in such an eminent circle?" Her anecdotes flow effortlessly until the moment she decides to put on white high heels – an ambiguous gesture. In Zarzycka's work, high heels symbolise the attractive woman – and, presumably, the attractive woman artist – in a stereotypical man's world. This 'shoe element' is also toyed with in the work of other woman performers, where recoding and reimagining its use and significance for women's conditions become a part of their storytelling. For instance, Natalia LL's Velvet terror (1970) and Artificial Photography (1975), and Ewa Partum's Selfidentification (1980) and – in a subversive way – Pirouette (1984), in which Partum uses ice-skates. But apart from their symbolic connotation, high heels also serve as elevating tools, in a very literal way. As Zarzycka comically explains during her performance, high heels are supposed to help her maintain her artistic position. At the end of the performance, before going offstage, she takes off the shoes and leaves them with the audience. Zarzycka's gesture of rejecting the tool that would make her stand out as a woman artist in the art world can be read as an act of distancing herself from the art-historical canon in which creative women have not been taken seriously. As in the larger international art context, there are many examples in Polish art from the 1970s onwards of works that critically refer to female sexuality and women's role in a patriarchal society, for instance, as invisible labourers.
"There is no coquetry in the mop cloths. They exist unpretentiously accompanying everyday life. The monotonous movements of the mop cloths softly mark the surface of the events. The wiping matter is a record of everyday history," writes the philosopher Jolanta Brach-Czaina in her famous and beautiful book Cracks in Existence (1992). Cited above in my translation, cleaning, this disregarded activity traditionally associated with a female role, becomes ritualised. It can even be sacred, as in the sculpture Rags of the Visitation Nuns (1988) by Teresa Murak. In this work, cress plants grow from holes in pieces of hemp cloth used by nuns to clean floors; on a symbolic level, lack serves as a ground for being. The motif of women's everyday struggle gaining importance within the frame of art can be also found in Julita Wójcik's performance Peeling Potatoes (2001) in which the artist, sitting next to a huge mound of potatoes, patiently peels one potato after another within the walls of the National Gallery of Art Zacheta.
Women's labor appears in a different aesthetic in Chapter CX (2007), a performance by the duo Chief Judge Group (Karolina Wiktor and Aleksandra Kubiak). Performed on the International Women's Day in Lodz – a city that grew thanks to the overexploited work of thousands of women in textile factories – it features the two artists, dressed in wigs and identical short dresses, sprinkling the gallery floor with vodka and then carefully licking it up centimetre by centimetre, their postures inevitably evoking all gender stereotypes.
Issues of sexuality, gender, and politics of power – in the Foucauldian sense – were especially present during the 1990s, a controversial period of so-called critical art connected with artists such as Katarzyna Kozyra and Alicja Żebrowska, as well as Zbigniew Libera, Paweł Althamer, and Artur Żmijewski. But these days controversies can be caused by anything really, even by the classics. For instance, one of Natalia LL's most renowned works, Consumer Art (1975), which shows women delighting in bananas, frankfurters, and ice-cream, reappeared recently when the National Museum censored it due to its alleged immorality. This led to one of the funniest protests ever in front of the art institution, gathering people… eating bananas.
Matka Polka: to be a woman is to be a mother, period
In everyday reality, the myth of the Polish Mother – Matka Polka – which historically goes back to the late Middle Ages, unfortunately remains present in various ways. This myth can be broadly described: women ought to become mothers because that's the most important female role. If you don't have children, it is not particularly rare to hear from gynaecologists – especially men – during routine check-ups that "you should." This pressure and obligation to be a mother manifests on various levels, from common talks to political speeches praising 'family values'. This context is precisely what Renata Piotrowska refers to in her dance performance The Pure Gold Is Seeping Out of Me (2019), in which she asks: "For many women, the desire to give birth is innate. But what if this desire was legally restricted?" Piotrowska explores motherhood from the point of view of exploitative reproduction policies, thus making visible inconsistencies between norms and non-conforming individual experiences.
Tensions between systems of power, individuals, and what is suppressed, become especially apparent in the context of art in public space. Sometimes art has nothing to do with politics, but the atmosphere and context makes art function politically. And sometimes politics makes art non-existent.
Art in public space
In Warsaw's Saviour Square (Plac Zbawiciela), there used to be a rainbow – a giant, colourful public sculpture made with artificial flowers by Julita Wójcik. It was visible, powerful, cheerful, and maybe a bit kitschy, but in this vibrant part of the town, absolutely fitting. As soon as the work was installed in 2012, it ignited emotions that went beyond anyone's expectation. The rainbow's associations with the LGBTQI+ movement became a pretext for repetitious attacks; the installation was set on fire five times, and five times was reconstructed. Finally, as this costly and vicious circle seemed without end, the installation was dismantled in August 2015. Writing on the rainbow from today's perspective, it is hard not to mention Poland's so-called LGBT-free zones: municipalities and regions that have declared themselves inhospitable to an alleged "LGBT ideology" – practically one-third of the country. When Powszechny Theatre in Warsaw staged Mein Kampf in 2019, what shocked me was the impression that everyday speech used in contemporary Poland towards 'others' seems to be harsher than Hitler's words from Germany in the 1920s.
But let's get back to art in public space. Another art installation, Joanna Rajkowska's Greetings from Jerusalem Avenue (2002), is an artificial palm tree proudly stretching its green leaves regardless of the weather conditions, at the Charles de Gaulle roundabout in Warsaw. When the tree was installed, it caused a huge amount of public discussion and disagreement. There were numerous reasons why the installation was not particularly welcomed at the time, and perhaps one of the very trivial, but, at the same time, important ones, was that people were simply not accustomed to contemporary artworks in public space. A short walk around Warsaw is enough to notice the many commemorative stone sculptures of male heroes. Maria Janion – an outstanding Polish scholar, literary theorist, and critic mostly famous for her research on Romanticism – has repeatedly attacked right-wing politicians for glorifying Poland's male and heterosexual national myth. Janion has traced elements of Romantic messianism in contemporary Poland, of which these over-present male monuments with their righteous glorification of suffering and heroic death are relevant examples. Rajkowska's palm tree – a rather happy and non-stone installation – was completely off that schedule. But then again, after a while, it surprisingly became a symbol of Warsaw – a postcard view, and a happier one than a stone monument. In this sense, Greetings from Jerusalem Avenue breaks the city's dominant monument narrative.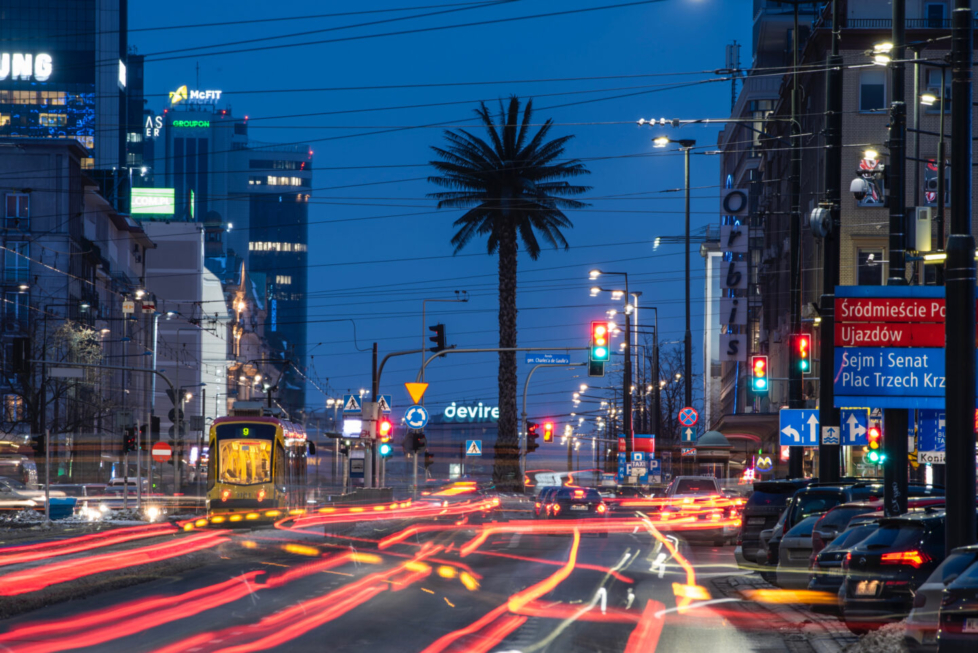 However, there is some precedent for contemporary artistic gestures marking the public space. Signs placed in the Freedom Square in Lodz saying "Silence," "Consumption Forbidden," "Forbidden to Cultivate Anything," and "Prohibited to Prohibit" comprised one of the first installations by Ewa Partum in public space (The Legality of Space, 21–23 April 1971). This concentration and accumulation of placards in a place accessible and visible to all passers-by emphasised the oppressive nature of the so-called public space that was always controlled under the Communist regime. Regardless of the political system, women were – and still are – subjects of control, especially their bodies.
Post-dramatic reality
An echo of Partum's installation can be heard and seen in the theatre play Stateswomen, Sluts of Revolution, or the Learned Ladies (text by Jolanta Janiczak, directed by Wiktor Rubin, 2017) devoted to Théroigne de Méricourt – a feminist activist during the French Revolution fighting for women's civil rights, equality, freedom, and solidarity. There was a moment in the performance when the audience could get onstage, take one of the available protest placards with slogans such as: "Shut up!" "Power instead of Violence!" "Enough!" "Blame the Rapist, not the Victim!" and go outside on the street. And many people did so. Even though the starting point for the performance was set in a historical context, no one doubts that Stateswomen, Sluts of Revolution, or the Learned Ladies pictures contemporary Poland. It is a play of protest and contains clear gestures expressing the current social anger and disagreement. But this revolutionary feeling was present much earlier.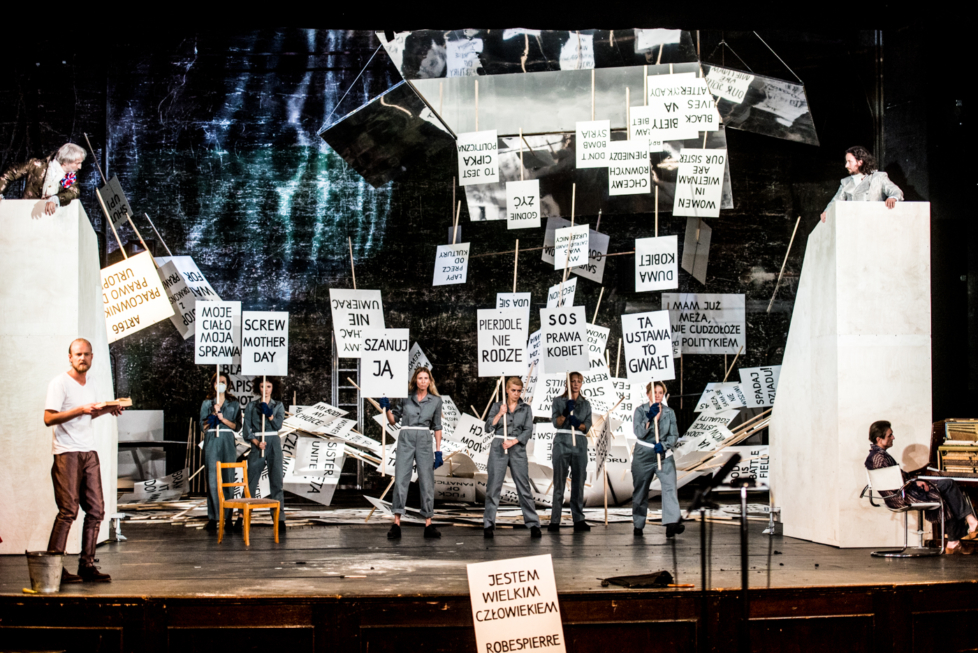 "You can start a revolution everywhere, even in your kitchen;
Grate, Chop, Squeeze.
We, women, are differently Monstrous
We are monstrously different."
These words are uttered by one of the women in Marta Górnicka's choral theatre piece The Chorus of Women (2009–2011). This internationally renowned performance relies on the raw simplicity, authenticity, and togetherness of the women's voices that whisper, scream, sigh, sing, and rattle stories of their struggle, creating a powerful message. The performance's rhythmic speech changes swiftly from duets to solo voices and the power of the full choir. What is most powerful in Chorus, is the fact that hearing women perform this collage-like text – which Górnicka assembled from a range of sources, from classical authors to colloquial language, commercials to movies – makes it sound so oppressive. The cultural scene is not blameless, as it carries, repeats, and re-performs violent patriarchal schemes. It is not coincidental that the most important discussions in Poland are currently happening around exposing harassment and #MeToo situations in the cultural world, art and theatre academies, and various theatre scenes.
From that point of view, I should recall Klara Bielawka's monologue from Klątwa/The Curse (directed by Oliver Frljić, Teatr Powszechny, Warsaw, 2017), a performance based on the playwright Stanisław Wyspiański's 1899 drama of the same name, in which the actress talks about the way women are treated and represented in the theatre: "I roll on the stage, I'm painted like a cow, and my friends laugh. Performing fucking identities. It's only by some coincidence that a woman always lands on her knees, gives a blow job, and gets raped in this fucking modern self-referential theater." [my translation]
Even if, as Bernard Stegemann comments on Postdramatic Theatre (2006) by Hans-Thies Lehmann, narrative has been replaced by simulation and the only thing that remains is a performative gesture and the act of representation itself, performative gestures still matter. But perhaps they have to move outside of the codified drama tradition. It is not coincidental that it is choreography and dance, and not dramatic theater with its production and reproduction of existing discourses, that have became the more relevant modes of expression for reacting to the current situation in Poland. Is this because the body's expressivity does not fall as easily into codified language? In particular, I'm thinking of: Karolina Kroczak's Empty Bodies, (2020), a collage-structured performance that takes a look at women's relations to their bodies as seen through the frame of cultural contexts; Agnieszka Kryst's, Expiria (2020), on emancipation trough the body; and Ramona Nagabczyńska's, Lesson (2020), an honest gesture of exposing a subjective, but unglamorous, 'neglected' body during times of pandemic. Or maybe the theatre just needs a new, more relevant stage for these politically intensive times?
Theatre scenes in Poland instantly react to current vital ideas; what and how they play serves as a barometer of political moods. In a way, theatre is always political, and it has always been. Historically speaking, the 25 November 1967 premiere of Dziady by Adam Mickiewicz (originally published in 1822 and widely considered one of the most important works of poetic drama in Polish literature) and directed by Kazimierz Dejmek, became an impulse for student protests at the beginning of March 1968. It is precisely this context that became a background for the performance Dziady na Mickiewicza (Dziady on Mickiewicz street) on 31 October 2020, organised by the Strike of Women. The audience gathered in the street looking at a 'stage' consisting of the open windows of two flats, where actors and singers delivered a protest version of the classic text, chanting in between to the rhythmic music: "My Body, My Choice." The same 'stage' hosted a similar protest performance on the last day of winter 20 March 2021: The Snow Queen. These grassroots performances engaging large crowds of creatives working for free are also emblematic for the current situation; the most important 'art' is not happening within the framework of institutions (some of which are already politicised), but in the streets, balconies, windows, and shopping queues. At some point, even museums realised that the placards used in countless demonstrations across Poland are 'art now' and started to collect them.
Subtlety of gesture
This 'art now' has its limitations, however. In a semi-democratic reality, gestures of protest vary from explicit to rather more nuanced and subtle strategies, especially if the modes of expression are either directly forbidden or limited by the economy or other circumstances. Such limitations are nothing new; as I've already mentioned, Partum's artistic gestures were usually expressed in a minimalistic way. In Active Poetry. Poem by Ewa (1971), the artist scatters letters of the alphabet into various spaces: the forest, the sea, or an underpass. As we have seen, subtlety of gesture and chosen material is also found in Murak's practice. Cress, the artist's signature and emblem, appears in many of her works. In Procession (1974), she strolls through one of the central squares in Warsaw covered in a cress-coat; her simple gesture, a walk in the public (albeit controlled) space, can be seen as a poetic way to claim it back.
Sadly, these old contexts seem to revive in contemporary Poland. At the height of the pandemic in May 2020, when the government banned freedom of assembly together with all outdoor activities except those done in the frame of work (it was not even allowed to go to the park), a group of artists re-enacted on the streets of Warsaw performance by Tadeusz Kantor, in which eight postmen in uniforms, escorted by militia, carried an enormous fourteen-metre letter addressed to the Foksal gallery. In the contemporary version, the police quickly reacted to the artistic gesture. The case ended in court, with high fines which were waived after the intervention of lawyers and an ombudsman.
It's important here to note that all protesters in Poland are risking their health and lives. For instance, in one of the August 2020 demonstrations, police arrested and detained the well-known non-binary LGBTQI+ activist Margot and forty-eight other people from the crowd. The Polish Commissioner for Human Rights found that some of those arrested were just bystanders and that police had insulted and humiliated LGBTQI+ detainees. To protest in a country where courts are not fully independent is to be exposed to vulnerability. The fact that it's a polarised and divided society doesn't help either. Having a poster supporting women's rights or a rainbow flag in your window means risking broken glass (and conversations with your neighbours about removing said poster or flag); having a bumper sticker on your car means risking having your tyres slashed and so on. Even though a majority is against the total abortion ban (and there is growing support for abortion on request), a large part of society still sides with such controversial decisions.
Polish Mothers on Tree Stumps
The dangerous absurdity of Poland's current political trajectory also manifests as human dominion over nature. The Białowieża Forest is one of the last and largest remaining parts of Europe's immense primeval forest and serves as a natural laboratory for the study of species and the climate. Except for a small section designated as a national park, most of it is protected by the EU and UNESCO as a world heritage site. What makes Białowieża so special and unique is its largely untouched ecosystem. Since the last glaciers receded from the continent more than ten thousand years ago it has served as home for more than twenty thousand species (including rare insects and invertebrates long lost in other parts of Europe). In 2016, Poland's government decided to destroy this unique place by drastically increasing the logging of the old forest around these protected areas. Overseeing that decision was Jan Szyszko, the infamous former environment minister who is also known for introducing the 'Szyszko law' that allowed private landowners to cut down unlimited amounts of trees without applying for government permission, which led to a 'massacre' across the country. One of the artistic responses to this insane situation was Cecylia Malik's informal civic movement Polish Mothers on Tree Stumps. The campaign started with documentation of Cecylia breastfeeding her son Ignacy at different logging sites in Krakow, showing the scale of the massacre. Shortly after she started, other mothers joined her and the group's first performance took place in Krakow on 3 March 2017. A photograph from the performance went viral and triggered similar protests in other Polish cities.
Shaping imaginations
Do artistic gestures of protest have an impact on politics? I would say: yes and no. It depends on whether we take a short- or long-term perspective. For sure such gestures leave traces and symbols; they bring hope and, most importantly, influence imaginations. Even if protest does not change the situation right away, it always changes the person who engages in protest – it always changes the subject. As Rebecca Solnit writes in Hope in the Dark (2004): "the most foundational change of all, the one from which all else issues, is hardest to track. It means that politics arises out of the spread of ideas and the shaping of imaginations. It means that symbolic and cultural acts have real political power."
For the time being, however, the atmosphere in Poland is not particularly optimistic. I have touched just on a few urgent issues seen trough artistic gestures, but there are many more artists that I could have written about. Quite recently, an online project called Secondary Archive launched, presenting 250 profiles of woman artists from Central Europe (Poland, Czech Republic, Slovakia, and Hungary), and I encourage everyone to go through it and explore the diversity of voices.
Quick fingers and low wage demands
On final remark. Writing this essay from Norway, where I have lived for two years, I feel conflicted. If Poland appears in Norwegian news media, it is mostly in the context of a crisis, whether the recent political crisis or, as is often the case, the crisis in the construction industry or the crisis of unpicked strawberries. The word "polakker" (Norwegian for "Poles") has become a shorthand for manual labour, and each time I hear or read it, it doesn't feel uplifting. If "polakker" is not humiliating and if picking strawberries is a "normal" job, then why was it easier during the pandemic to send a plane with Vietnamese workers to Norway than to employ Norwegians? This distorted image of Polish immigrants slips into everyday contexts and practical life – my everyday life too. I smiled bitterly when I came across the following passage in Maja Lunde's book De første dagene (The first days, 2020) written at the start of the pandemic: "Soon the sheep will be lambing. And later the strawberries will grow. First white, then gradually redder and sweeter. But this year, there are no Polish guest workers ready to take over the strawberry fields with their quick fingers and low wage demands." [my translation]
My fingers are not particularly quick, but I must admit that writing art criticism is not a very well-paid job.
This text was originally published with the author's previous name, Zofia Cielatkowska.