Lisa Rosendahl and I have been discussing art exhibitions for almost twenty years. Still, I'm a bit nervous about meeting her for a conversation about the Göteborg International Biennial for Contemporary Art (GIBCA), which she has been assigned to curate for two editions in a row. First up is the 10th edition, GIBCA 2019. Part of the Labyrinth, which opens this Saturday 7 September.
Maybe my nervousness has to do with the fact that I find the theme of the biennial so urgent. Maybe it's because I'm curious about how she'll solve the task of curating two biennials in a row. I haven't heard of anyone doing that since Harald Szeemann redefined what it meant to curate the Venice Biennial, with his two editions in 1999 and 2001. But as soon as Rosendahl starts talking, with her characteristic ability to make an exhibition feel like the most important thing in the world right now, I start to relax. We write each other, meet up a few times, have dinner, and keep talking: about Gothenburg's role in the transatlantic slave trade, about noble families in the Swedish contemporary art world who were also on Saint Barthélemy during colonial times [Saint Barthélemy was a Swedish colony 1784–1878], about the natural and industrial history of Sweden; about the spaces of art and the factory.
Over the course of our conversations, an image emerges of an exhibition montage with big ambitions, as open and associative as it is tangible and specific. Where other biennials have sought to abandon or decentre the art exhibition, it is clear that Rosendahl is not prepared to surrender the notion of the exhibition as a critical form. On the contrary, she seems to be building on and complicating many of the projects she has devoted herself to during her career in leading positions at the Lisson Gallery in London, the Baltic Art Center in Visby, and Iaspis in Stockholm. After a number of exhibitions viewing art through the lens of industrial society – at Malmö Konstmuseum in 2016–2017 and Kunsthal Trondheim in 2018, for instance – my impression is that she is ready to take on further aspects of colonial and capitalist modernity with her two editions of GIBCA.
You've called the exhibition Part of the Labyrinth, how did you come up with the idea for the project?
When I was invited to curate two consecutive editions of the Göteborg Biennial and somehow link them to each other, it seemed like an obvious context for thinking about different kinds of interconnectedness. In recent decades, interconnectedness has become an important concept for problematising modernity's division of the world into binary opposites, such as nature and culture, individual and collective, or man and woman. Since the second edition of the biennial will coincide with Gothenburg's 400th anniversary, I also began to look at the 1620s and how the changes in society then have affected the way the world looks now. The mechanistic worldview – through which people began seeing interconnected events and life systems as separate, and the world was reduced to an exploitable resource – was formulated in the 1620s, by the philosopher René Descartes and others.
I borrowed the biennial's title from a poem by the Danish poet Inger Christensen. In it she answers Descartes' adage "Cogito ergo sum" – in which he is considered to have separated body from thought – and writes: "I think/therefore I am/part of the labyrinth" (1979). I see Christensen's labyrinth as a metaphor for our inextricable involvement in the complexity of the world. We are not only interpreters of the world, we are its co-creators. The labyrinth is also a way to move in several directions at once. In order to move on, you must also turn back, take the same path but from a different perspective and discover unexpected itineraries and links.
Is the exhibition designed as a labyrinth somehow?
No, I haven't staged any labyrinths. And none of the works are about being in a labyrinthine game directed by an artist. My point is that we are already inevitably participating, and I think of the labyrinth as a metaphor for how the world is already constituted. I have tried to create an exhibition with many layers, levels, and connections, and with many different visitors in mind, so I hope it is possible to absorb what is shown in many different ways. On an immediate level, the viewer can see and engage one-on-one with all the wonderful artworks and delve into them. But for those who are interested, there is an underlying mesh of visual and thematic echoes between different world and exhibition spaces that are in dialogue in different ways. In that common space, a different kind of narration becomes possible; the world is narrated from a relational perspective rather than an individual one – an account that is impossible with only one narrator or one perspective.
I haven't heard of the same curator being commissioned to do two biennials in a row since Harald Szeemann curated the Venice Biennial in 1999 and 2001. What will the connection be between the 2019 and 2021 editions? Can you say something about the different cultural histories of the main exhibition venues?
The two editions won't be the same, but they are also not separate. I think of them as two interwoven expressions. My sense is that the two editions will be very different. But there are so many aspects involved, so it's really too early to say. Economy is definitely one of those aspects. This year's biennial will be a starting point where different questions, ideas, and histories are introduced. I've only had one year to work on it, and the budget is limited. This means that very few of the works are new.
The exhibition's form is based on montage: a collection of artworks and sites speaking to and through each other. I hope to open up and deepen these concerns in collaboration with others in the coming year. Hopefully, unexpected paths and forms will emerge. The colonial history of the French lot [a plot of land in Gothenburg], which we are already working on, is likely to play a more prominent role in 2021. The reflection of our precarious contemporary condition in the social changes of the 17th century will also be more clearly expressed.
And the exhibition venues?
As far as the exhibition spaces are concerned, they are all examples of how the modern world was organised in terms of separation between different systems and practices. I want to highlight how these systems actually interact and are part of the same story. Röda Sten Konsthall's industrial past, the colonial heritage of the French lot, the modernist architecture of Göteborgs Konsthall, and the Gothenburg Natural History Museum's staging of nature as a separate concept, have all enabled each other in different ways. Swedish industry emerged from our colonial trade, and the natural history collections are deeply linked with industrial and colonial exploitation. The white cube's spatial materialisation of modernist ideology is an expression of the same abstraction underpinning European civilization's view of the world as an economic resource rather than a living organism.
Is this the interconnectedness?
Yes, in relation to the exhibition it is. Many of the artworks deal with or use different forms of interconnectedness, conceptually and/or formally. Curatorially, I have tried to put together an exhibition where common issues reoccur in different works and spaces, but from different perspectives and through different expressions. Some artists' works are shown at several of the exhibition sites, which is another way of weaving together the whole and highlighting how a question or theme can be viewed through different contexts. For me, curatorial practice is in itself a form of interconnectedness, a way of creating connections between artworks, thoughts, audiences, and places. It is a non-linear means of expression, where many different and sometimes contradictory voices coexist. The different exhibition venues embody this in different ways.
What's the budget for the exhibition?
Our budget is SEK 1 million (EUR 93,000). This is supposed to cover artist fees, travel and accommodation, transports, building exhibitions, and creating new artworks. On top of that, we apply for funding from international institutes and other organisations that support art production. For GIBCA 2019. Part of the Labyrinth, we have received about SEK 225,000 (EUR 21,000) in this type of funding.
That doesn't sound like much, considering the nature of the project – an international art exhibition – and in relation to other Nordic biennials.
Yes, well, it limits the form, and who we can literally afford to work with. And as always, when planning exhibitions there are works of art and artists that it would have been fun to work with, but which the budget just won't allow for.
Such as?
I would have really liked to show Agnes Denes, for example. She was in the first GIBCA in 2001, and it would have been nice to have her for the 10th edition, especially since she worked with environmental issues in an exciting way early on. But it just wasn't possible. Transports from outside of Europe have also been impossible, as have the transportation of larger works and the production of more extensive new works. We also haven't been able to work on projects or use exhibition spaces that would require us hiring staff or paying larger collectives or co-curators. And no far-flung research trips…
It always comes down to the money…
Yes. But in addition to our basic budget, we have worked with partners such as Iaspis, Göteborg Konst, the Gothenburg Office of Transportation, and the Swedish Transport Administration, which has made the production of a few new works possible.
Entanglement.
Ha! Indeed.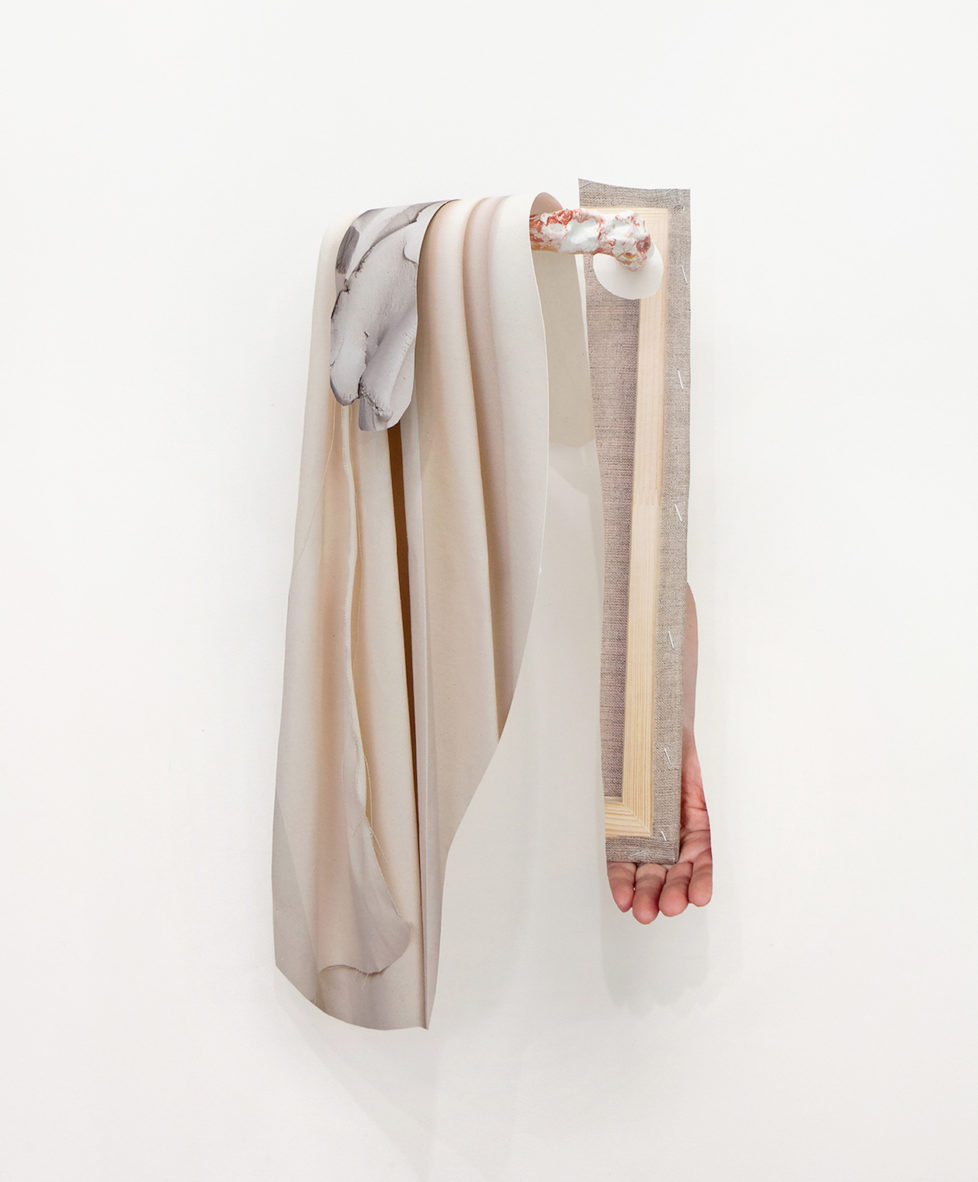 Do you want to say something about the selection of artworks?
There are thirty-five artists in the biennial, and some archive material. The main mission of GIBCA is to show international contemporary art. We are showing fantastic works by artists who haven't been shown much before in Sweden, like Hannah Black, Özlem Altin, Paolo Cirio, Elena Aizkoa, Rachel De Joode, and Cian Dayrit. Then there are a few artists based in Gothenburg or who have some sort of connection to the city, like Ohlsson/Dit-Cilinn, Eric Magassa, Henrik Andersson, and Kajsa Dahlberg. The selections were made beginning with the works. I was in dialogue with artists about specific works that relate to the themes of the biennial. The artists are also from several different generations. I liked the idea of bringing the relatively young Philadelphia duo Black Quantum Futurism together with the Gothenburg painter Kent Lindfors, who was born in the 1930s. They both work with cross-connections of time and space, but from completely different perspectives. And then we are showing a wall drawing by Knud Stampe, made for the SKF [Swedish Ball Bearing Factory] union clubhouse in 1971 and which has never been shown in a public context, in relation to works by Ibon Aranberri and Rikke Luther which make other historical connections to industry and aesthetics. At the three larger venues, Röda Sten Konsthall, Göteborgs Konsthall, and the Gothenburg Natural History Museum, we're showing parts of Oliver Ressler's ongoing documentation of climate activists' struggle against the fossil fuel economy – a reminder that the issue of climate change is now an inevitable part of other conflicts and societal concerns.
You've written in the introductory text that "through art modernity turns its gaze towards itself and is examined from a situated and context specific perspective." How can we expect to experience this in the exhibition?
Art is both a product of and an opposition against modernity. This paradox is inherent to art, which is what makes it so interesting. One example is Michelle Dizon's work White Gaze (2018) in which she has used a collection of National Geographic magazines from the 1930s and onward. By leaving all the images intact, but cutting out parts of the text, the artist reveals an underlying narrative. The remaining text fragments elucidate the latent violence and imperial message of the images. This is a way of demonstrating how the white gaze, behind the camera as well as on the image, reduces all other subjects to objects. But what's interesting is that Dizon herself uses a reductive and abstracting technique to make this violence visible. The work both criticises and utilises the methods of modernity.
The work is shown in Göteborgs Konsthall, a classic white cube without windows facing the street. I see the white cube as one of western civilisation's strongest spatial stagings of modernity's foundational ideas of separation, autonomy, and abstraction. The architecture creates the illusion that it's possible to establish a distance between the self and the world in order to critically observe and shape it, an opportunity that we know can lead to both radical freedom and unspeakable violence. This opportunity for people to see themselves as standing to one side of the world, with the privilege of individually deciding when and how to participate, has created the feeling that we are all autonomous units separated from each other and our surroundings.
In fact, we are profoundly dependent on each other and our surroundings to survive. Separating ourselves from each other is a classic formula for suppression, a way to divide and conquer, to make us "bodies without worlds," as Tiqqun put it.
How is this related to the French lot and the archival material from Saint Barthélemy, the island that was "discovered" by Columbus in 1492 and later became a Swedish colony?
The so-called "French lot," Packhusplatsen 4 in Gothenburg, was given that name in 1784 when it was traded for the Caribbean island of Saint-Barthélemy as part of a deal between Sweden and France. The French got free trade rights in Gothenburg, and the Swedes assumed the colonial rule of Saint Barthélemy. The Swedes conducted extensive slave trade out of Saint Barthélemy until 1847. In 1878, the territory was sold back to France. Today, the French lot is wedged between the Transatlantic shipping company's former headquarters and the Court of Appeal for Western Sweden. GIBCA's work with the French lot has started now and will intensify in 2020 and 2021. We've invited artists and other voices to relate to the links between Gothenburg and Saint Barthélemy, but also to the question of the relationship between trade and injustice in a wider perspective. We're also showing a small selection of bureaucratic documents from the Swedish colonial era. These white papers have quite a bit in common with the white gaze and the white cube.
When you talk about the curatorial montage, this makes me think of the experimental art historian Aby Warburg. Are you influenced by him?
Absolutely! The curatorial montage originated with Warburg. In his montages he traces specific details through images from various disciplines, social strata, cultures, and time periods. Agamben has written about Warburg's "quest for a nameless science," which I see as an attempt to talk about the world across different scientific disciplines and categories in order to make visible – gestures, expressions, symptoms – that which transgresses or escapes those types of categorisation and differentiation. You could say that this is also what I am trying to do when I look at different kinds of specificity – artworks, places, historical fragments, or visual echoes – and connect them to each other in order to say something about wider phenomena.
But, in addition to the scope and brilliance of what Warburg did, there are also other differences. Warburg worked with photographs mounted on a black background. In my exhibition montages, the "background" consists of existing environments, which are very much part of the montage. And Warburg was active in a time (1866–1929) completely dominated by the division of the world into separate disciplines and categories. Warburg was considered mentally ill; his gaze and method were unique for his time. Today, a large number of scientists, activists, artists, curators, and philosophers work in various ways to describe the world as interconnected – I am part of that, I'm not a single voice.
Which other exhibitions have inspired your work with GIBCA?
In the category of larger group shows, there are several projects that have been important to me. Pedro G. Romero's Tratados de Paz 1516–2016 in San Sebastian was a wonderful and very ambitious exhibition that connected lots of different places and historical and contemporary artists. Other examples are: The Potosí Principle curated by Alice Creischer, Andreas Siekmann, and Max Jorge Hinderer; Anselm Franke's Animism at Haus der Kulturen der Welt; and the 11th Istanbul Biennial curated by the collective What, How & For Whom. All of these exhibitions have to different degrees used historical reference points and/or context-specificity in dialogue with exceptionally good contemporary art.
Reading the programme, I get the sense that there aren't many participatory artworks in the biennial, works in which the visitors themselves are expected to actively take part in what the artist stages. Is this a fair assessment?
You're right. There are very few works based on participation in the exhibition. In my experience, those kinds of initiatives create a constructed sense of connection that completely misses the point. What I want to say with this biennial is the complete opposite: we are already deeply and inextricably implicated and we must start taking responsibility for our part in the world, without waiting for someone else's instructions.