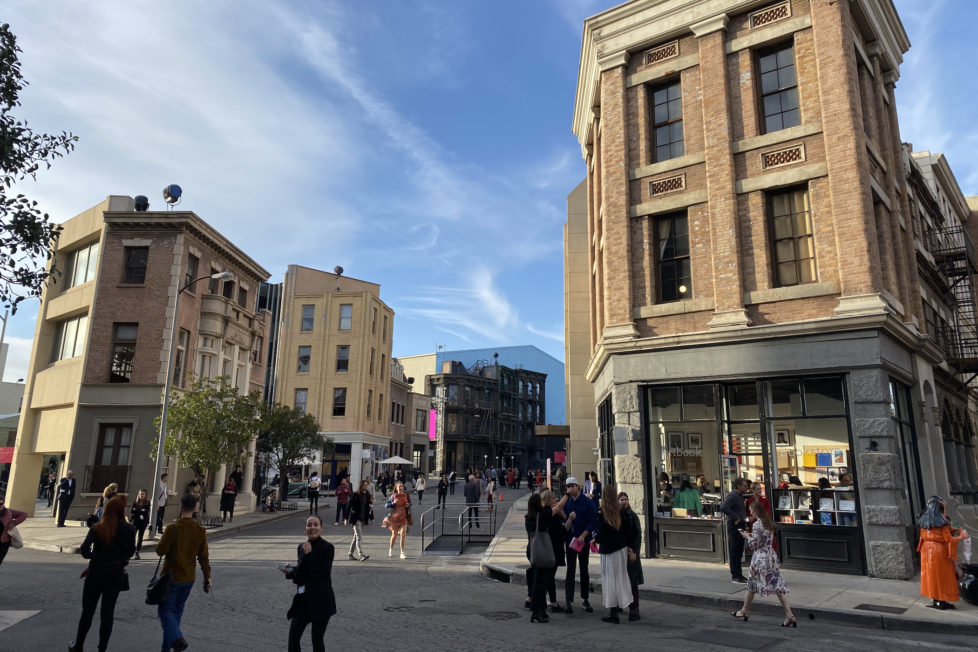 The first visitors to last Thursday's VIP opening of Frieze Los Angeles clustered to form the kind of long queues which have become something of a hallmark of popular art events these days. Having made it through to the vast white tent furnished with the usual white partitions and abuzz with the sound of enthusiastic sales pitches, I try to navigate my way towards the actual art, beset on all sides by huge sunglasses and soft loafers worn without socks. In a flash, a familiar face glides past, half-hidden behind one of the biggest pairs of sunglasses at the fair. It's Jennifer Lopez, on her way out after having had the more than seventy galleries and exhibitors to herself for the first hour. She is reported to have purchased a work by American artist Genevieve Gaignard, represented by the gallery Vielmetter Los Angeles; the work itself is part of a multimedia installation executed in a floral pastel-coloured LA aesthetic.
Established in 2019, Frieze Los Angeles is the heart of Frieze Week, which floods all of LA in a deluge of exhibitions and events at the city's museums and galleries, as well as no less than four other art fairs: Felix, Art Los Angeles Contemporary, Spring / Break Art Show, and Startup Art Fair. Even in its first year, the newly established fair and art week managed to push all other contemporary art fairs to the curb, triumphantly attracting more than 30,000 visitors. This year, the art fair is back in Hollywood's Paramount Studios – and it now also boasts Focus LA, a programme dedicated to thirteen local exhibition venues which have been active for less than fifteen years, selected by LACMA curator Rita Gonzales. Unsurprisingly, this is where I found the fair's most innovative pieces.
However, the first work to catch my eye was somewhere else. I cracked a smile as I discovered that it was by Danish artist Ursula Reuter Christiansen, who's on display at the LA gallery The Box side by side with Henning Christiansen's naïve illustrations of birds on paper and Julien Bismuth's quirky gouaches. Reuter Christiansen's ceramic works from the mid-1980s are particularly arresting – three faces with petrified open mouths which scream out against the fair's ceaseless soundtrack of 'amazing', 'unique', and other platitudes.
Elsewhere, New York-based gallery Metro Pictures presents a bronze sculpture by Camille Henrot. The split heart comes across as a little depressed standing there on its own, as if it had been left behind by one of her total installations, yet works well with its hybrid gesticulating form that leads us further down the hall past Herald St. from London, where Jessi Reaves's luminous sculpture injects a breath of fresh air into the general exhibition atmosphere.
The absolute highlight of the fair is two sculptures by Norwegian artist Ida Ekblad, mimicking beds with sausage-shaped pillows and large dragon-like claw feet. The heavy, beautiful, and marble-like mood evoked by the volcanic stone is playfully lifted by statements winding their way across the sculpture's surface in a popular font and forming the phrases "Abominable Girl" and "Sauce More Sauce." Ekblad's solo presentation at Galerie Max Hetzler is also accompanied by two cast-iron benches striped in green and white; the seats are carried by octopuses. Just as this intelligent mollusc is rumoured, in fantastical tales, to drag ships down into the briny depths, Ekblad's works pulls us down into an ocean of references which glide nimbly between art historical references and pop cultural lightness.
Also notable are Nairy Baghramian's works presented by the Marian Goodman Gallery. With their organic forms and distinctive support systems, these pieces are placed somewhere between sculpture and mould. Baghramian's works, however, deserve more space and an opportunity to more specifically relate to the site in which they are exhibited – i.e. the way they are usually presented. I like to think that her glass work is deliberately placed out of reach, hanging overhead against the tent's supporting steel girders, mimicking the work's own support regime.
A partnership between Pace Gallery and Kayne Griffin Corcoran presents a series of works by James Turrell in the form of a single total installation. Before the VIP day was over, model Kendall Jenner had bought parts of it. Evidently, a love of Turrell's art runs in the family: recently, Jenner's brother-in-law Kanye West made a multi-million-dollar donation to help ensure that the public can catch a glimpse of the artist's enigmatic Roden Crater, a dormant volcanic cinder cone whose interior Turrell has been processing and reworking for the past forty-five years in order to turn it into a vast work of art. The purpose of the donation was to speed up the process and, not least, to enable West's IMAX film Jesus is King (2019) to be shot in Turrell's special universe of light and space.
Of the thirteen local galleries which form part of Focus LA, Chateau Shatto's presentation of Aria Dean's work best illustrates how balance can be struck between commercial interests and critical discourses. While Dean's works – one depicts a mirror, another a distorted frame – lean toward the somewhat didactic side in terms of their investigation of viewer, work, and context, her intelligent work Dead Zone (4) (2019) is embedded with important discussions concerning the commodification of black culture through social media and memes. It suits the fair to have works as these incorporated.
Frieze Projects is the one part of the fair that made my expectations run highest. Located just outside the white walls of the fair's tent, it is curated by Rita Gonzales in collaboration with Pilar Tompkins, director of The Vincent Price Art Museum.
An art fair located in Hollywood, up against Paramount's iconic movie backdrop of New York City, is truly an exciting thing. The possibilities for incorporating contextual conditions, the city's close ties to the film industry, and playing with site-specific layers are endless. Unfortunately, the two curators didn't really follow up on these aspects. A work by Sayre Gomez contains interesting references to the city's artificial flora and extensive use of palm trees, while Tania Candiana's work focuses on the Japanese-American women forced into California labour camps during the Second World War. Nevertheless, as with so many things in LA, the overall experience mostly skims along the surface.
The issue is accentuated further during a performance, Fuck White Supremacy, Let's Get Free (2019), by Patrisse Cullors, one of the founders of the Black Lives Matter movement. Set in the artificial streets of New York and against the backdrop of Gary Simmons's selfie-inviting banners, Cullors particularly invites "People of Colour" to dance the "electric slide," a dance originating in black culture. The VIP guests at Frieze are predominantly white, however, and despite attracting the participation of about twenty people, this important contribution is only briefly registered by the many visitors who, like designer Jeremy Scott, whizz past in a blur. Star curator Hans Ulrich Obrist also drops by, wearing a pastel blue suit that is a surprisingly good match for the cinematic backdrop; alongside Kevin McGarry, he curated the fair's music programme.
Inside the appealing setting of the film set, the art fair also presents Street Fair, that shows artist initiatives across L.A., that have stalls selling various books and design objects, as well as having a broadcast show. The overall aesthetic of the booths is reminiscent of the Christmas markets found in many German cities in December. Again, it would have been interesting to incorporate these booths more directly into the artificial stores found in the ersatz New York backdrop, instead of the champagne bars and the rather indifferent Birkenstock store for which these spaces were designated. At the same time, places like the feminist networking and exhibition venue The Women's Center for Creative Work deserve much more space to unfold. With its newly appointed director, the multitalented Mandy Harry Williams, the WCCW is one of the places to watch in LA.
On the whole, one can only hope that as time goes by, Frieze LA will increasingly work with the many potential layers inherent in the art fair's rather charming film-set location. On the way home, while looking blankly out the window as the taxi driver navigated the streets of Hollywood, I catch Jennifer Lopez affectionately smiling down at me from a GUESS billboard. She has come to mark both the beginning and the end of my day in Hollywood's beguiling universe.