Proudly, Office for Contemporary Art Norway (OCA) director Katya García-Antón introduced the first lecture at OCA to be entirely held in Sami. Everything was prepared. Headsets had been handed out. Next to the auditorium were two booths with interpreters. Their job was to translate from Sami into English and Norwegian, and vice versa.
The cause for this impressive effort was the lecturer: Sami artist Britta Marakatt-Labba (b. 1951). In September this year, she received the John Savio Prize, which is named after the first Sami modern artist, John Savio (1902–38), and honors the achievements of Sami artists. At Documenta 14, Marakatt-Labba's contribution, Historja (2003–07), a monumental embroidery on linen measuring 39 cm × 23.5 m, was nominated as one of the ten most significant works.
Marakatt-Labba entered the stage in her traditional Sami costume. Just to describe her outfit in this way, using the words «traditional» and «costume», implies a discrepancy, a fissure between two worlds which, for centuries, have been violently kept apart. The symbolic meaning of the embroidered forms on Marakatt-Labba's dress is a mystery to me, and perhaps to her as well, since so much knowledge of Sami culture and collective memories have been lost, annihilated by the oppressive practices of the states of the North.
The theme of failing translation, gaps and missing links permeated the entire lecture. Marakatt-Labba's voice, once I dared to take off the headset for a moment, was clear and strong. Her narrative had flow and beauty. The voice of the interpreter, however, was the opposite: stammering, sentences forming clumsily, words being corrected, replaced, taken back. The dialogue between audience and lecturer was dragging, marked by problems of translation between Sami, Norwegian and English.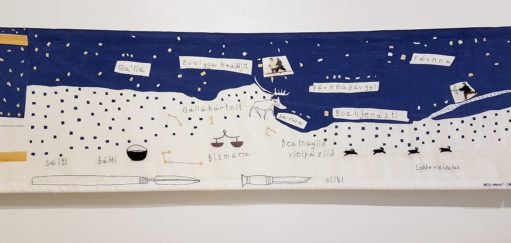 Marakatt-Labba presented many of her works during the lecture. Projected onto a screen, the structural and tactile quality of her embroideries was poorly conveyed. Often, it seemed as if Marakatt-Labba herself was at loss for words when describing and explaining her works. Their gripping visual appeal, their clear vision of Sami life, culture, history, politics and mythology, could not be matched verbally. Moreover, her art neither emerges from, nor does it present itself within a homogeneous and unified cultural landscape. While rooted in traditional Sami handicraft, the forms, events and symbols of Marakatt-Labba's textiles aredisconnected from a contemporary cultural and historical horizon. Her mythology is a personalised one, gaining its tension from being located in between the fields of Sami craft and late modern artistic individuality, between a social framework of traditions, practices and rituals and the white-cube aesthetic of the international art market.
But as I was losing myself in the gaps and fissures triggered by technological and lingual challenges, I came to think that Marakatt-Labba's images of snow-covered plains, which nearly swallow their tiny human figures and animals, are very impactful exactly when viewed in spaces designated for contemporary art. The ambivalences pervading her pictures, their mediation, the artist's identity and the whole setting of the lecture at OCA's exhibition space could not, and perhaps should not, be resolved. To witness the unfolding of this event was not simply a matter of enduring. It was a both painful and fascinating experience that sparks reflections on art, Northern history and the world we are living in.