On first hearing, the title of the seventh Borås Biennial, Deep Listening for Longing, sounds like an offshoot of the past decade's post-criticism. This stance replaces a critical tradition based on dialectical dichotomies – such as reason and sensibility, or capital and work – with a post-critical approach to reality through emotions and affects. The title also chimes with "deep listening," a term coined by the American musician and composer Pauline Oliveros and which can be described as a non-hierarchical and meditative listening where the whole person, with all her senses, must be present.
Deep Listening for Longing
Borås Art Biennial, Borås
—
But what's taking place in Borås, if not contradicts, then at least complicates the title. For rather than merely encouraging us, as the programme sheet states, to listen "deeply to each other's experience" in order to "build consciousness and a shared understanding of the world," this biennial is directed both inwards and outwards at the same time. It highlights some of today's major international lines of conflict, such as those between the Global North and South, between work and finance, and between language and code. But it does so with works that spiritually or metaphysically turn to the body, to nature, and the soul. And which not infrequently allude to the viewer's ability to feel, listen, and see. A critical post-critical art?
This year's biennial is curated by Ulrika Flink, artistic director of Konsthall C in Stockholm, and Amanprit Sandhu, a London-based freelance curator. This is the first time the biennial has been organised by an international curatorial duo, and the first time the concept of a public sculpture biennial has been abandoned – even though almost half of the works will be shown outdoors this year as well. A total of twenty-five international and Swedish artists participate in exhibitions around the city, but also at Borås Art Museum/Culture House, Borås Textile Museum, and in Gustaf Adolf's Church.
At the Art Museum, the American artist Renée Green sets the tone for both the biennial's sensory and political dimension with the work Space Poem # 7 (Color Without Objects: Intra-Active May-Words) (2020) which consists of twenty-eight colourful banners hanging in rows from the ceiling. Instead of political messages, these feature fragmentary and often incomprehensible or poetic syntax such as "about to make a basket but" and "material – here they slim." The brain is short-circuited and the instinct to understand is put out of play. It is difficult to say whether this is a lament over post-democratic society, or whether it points to other ways of understanding the world.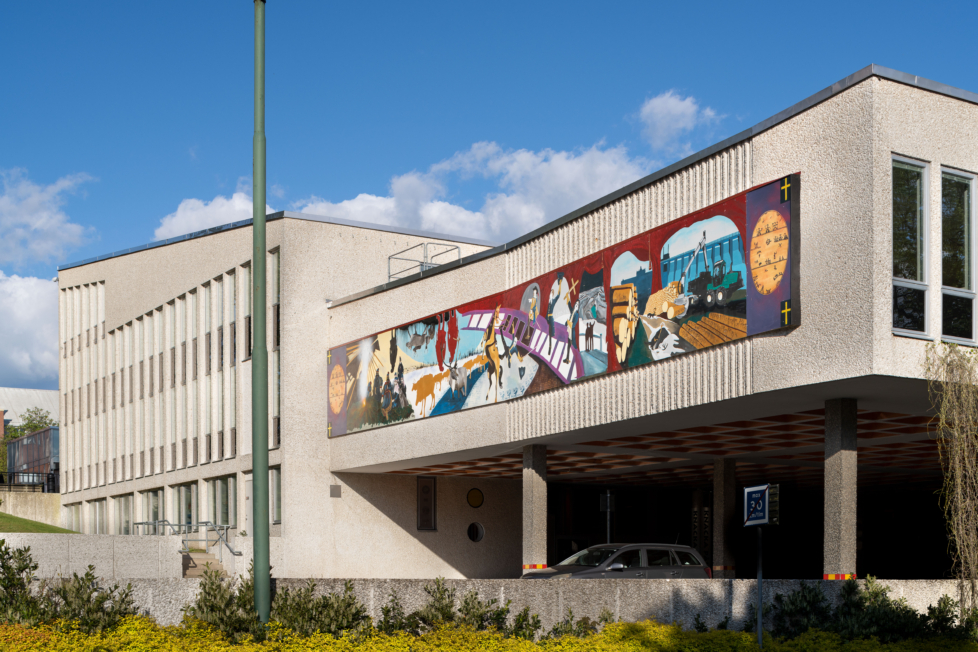 As austere, but more corporeally transgressive, is the Stockholm-based artist Jacqueline Hoàng Nguyễn's For An Epidemic Resistance (2009/2021), which is also shown at the art museum. Hanging from the ceiling on sticks are twenty-five small speakers from which one or more people are heard laughing at different times. The work alludes to a laughter epidemic that broke out at a school in Central Africa in 1962. It is a minimal – and almost technologically conservative – installation, but the laughter is contagious in a funny and almost uncanny way.
Given the biennial's title, it comes as no surprise that many of the works employ sound. Hong Kong-based artist Samson Young's Possible Music # 2 (2019) also uses small black speakers on sticks, but places them in an oval formation on a blue gaming rug that is enhanced by a metre-long, half-depicted whale back (or is it a giant trumpet?) at one end of the installation. This connotation is reinforced by the military and sometimes whale-like signals that sound at unexpected intervals in the space. Here it becomes clear how sound goes straight into the body in a different way than light, and thus perhaps also escaping representation. Despite this, many sound works in the biennial have a specific aesthetic: tight, stylish, and difficult at times to distinguish from technology as commodities.
The latter does not apply to the Stockholm-based artist and DJ Jin Mustafa's combined seating and sound sculptures in Borås city centre. Resting in the park down towards the canal, pastel-glazed stones emit a swishing sound, sacred and urban in equal measure, which is the result of sound recordings from the city mixed with new compositions by the artist.
Joe Namy's cloth gate The Curtain of the Sky (2021) is installed on the bridge leading across the canal towards the city park. It looks like a giant drapery or theatre curtain. With an accuracy similar to Mustafa's sounding stones, it picks up something specific from Borås at the same time as it is a work in its own right. The blue curtain, which resembles traditional quilts from the region, consists of textiles collected from the people of Borås. From trading town and centre of the Swedish textile industry to today's multicultural university town, the city's history is reflected at a glance in this equally sublime and socially transformative work.
That feeling recurs in the Swedish-Sámi artist Anders Sunna's long and narrow mural Lyxen av att samsas (The luxury of sharing, 2021) on a side of the Culture House. The ironic title is reflected in the painting, which is an illustrated history of the Sámi and Swedes: from the first Sámi settlements (which existed long before Sweden did) to the Swedish imperial era of the 1600s and the modern forest industry. Violence surfaces when the Carolean army comes riding in and the painting becomes a dark image of a far from harmonious history.
The strongest impressions are left by the many essay films presented, such as the Stockholm-based artist Salad Hilowe's magnificent Passion of Remembrance (2020). This melancholic memory montage takes us back to the 1990s in Sweden through scenes from the TV4 soap opera Three Crowns (Tre Kronor) and interviews with the Swedish singer Leila K mixed with clips from a production from the 1970s of August Strindberg's play Gustav III (1902), in which the former slave Gustav Badin is celebrated and heckled at the same time. It is an ingenious work that addresses both directly and poetically the political tensions that existed in Sweden thirty years ago, and which have since deepened and become more critical.
Another work that made a lasting impression is London-based Rehana Zaman's low-key and slow film Alternative Economies (2021), which contrasts biological and financial systems. In close-ups, two women set against black abstract film images are seen boiling and squeezing yellow dandelion flowers and mushrooms. Over the images, voices reminiscent of a TED Talk lecture are heard celebrating the evolutional nature of cryptocurrencies built without the major central banks; alongside them, a female voice partially dispels the myth of the transparent and flat organisation of cryptocurrencies. With interspersed snippets of Scrooge McDuck striking gold, the film pits the old imperialist capitalism against the new cryptocurrency capitalism.
Different economic, geographical, and cultural systems are visualised even more effectively in Berlin-based artist and filmmaker Filipa César's experimental documentary Quantum Creole (2020), shown at the Textile Museum. Like Hilowe and Zahman, César uses filmmaking as an exploratory method in itself, showing how Guinea-Bissau's weaving techniques functioned as an anti-colonial language, and how this, rather than writing, resembles binary code as used in programming.
Several of the works in the biennial are driven by an inward movement that often veers towards the colourful and abstract, such as Tobias Sjöberg's sheer stained glass windows placed in Gustav Adolf's Church opposite Borås Art Museum, and Åsa Cederqvist's pinkish-beige gut-like sculpture We Always Carry the Origin Within Us (2018) inside the museum.
The Gothenburg-based artist duo Åsa Norberg and Jennie Sundén's magically illuminated – in equal measure concrete and metaphysical – images inside Borås Textile Museum are particularly successful. On the fifteen or so large works that hang in a row around César's film installation, various graphic symbols can be seen in materials such as felt, cotton, and thread. At first they seem unrecognisable, but on closer inspection they look like emojis or symbols taken from the world of online shopping. In other words, Norberg and Sundén's images are socially anchored and recognisable to a contemporary viewer at the same time as they give rise to new or at least unexpected forms.
This year's Borås Biennial is a critical exhibition in the sense that art is seen as a form that can address the economic and geopolitical tensions that modernity, in all its contradictions, comprises. But it is also a post-critical exhibition where the works embody these tensions through texture, sensuality, and spirituality. Many of the artists are perceptive about the times we live in, and each work has plenty of space. Here, deep listening means that the curators have succeeded in placing different kinds of art – but also different perspectives on the world – next to each other. A biennial without a message, some might argue. However, I see it as a convincing argument for the importance of taking in different views and forms in a polarised time. Simply listen.