The outbreak of coronavirus, which has had a significant impact on large parts of the world, is also affecting the Swedish art world. Many galleries have already closed their doors, and on Wednesday evening Moderna Museet and Nationalmuseum announced that they will close at least until 14 April, becoming the last major museums in Northern Europe to shut their doors to the public. Several art institutions remain open, however, although educational programming, exhibition openings, and other larger events have been cancelled.
Some of the hardest hit are the Stockholm art fairs, which were scheduled for the third week of April. The Nordic-focused Market Art Fair has announced that the event is postponed to the end of September, but will still take place at Liljevalch's Konsthall. The artist-run fair Supermarket is also postponed until after the summer, which the organisers have announced will probably mean a major reshuffling of the programme and a new exhibition venue.
In addition, a large number of exhibitions, seminars, and events have been postponed or simply cancelled in recent days. It is not clear if or when many of these will take place. Arts professionals are experiencing a substantial loss of income, and the organisation KLYS, the Swedish Joint Committee for Artistic and Literary Professionals, has proposed rescue measures for Swedish artists in dialogue with the Ministry of Culture and the Ministry of Social Affairs. At the time of publication, the Swedish government has yet to present any measures for the cultural sector in general, something that the Norwegian government has done, where SEK 300 million (EUR 27 million) has been allocated to cultural life through the Norwegian Cultural Council.
Kunstkritikk spoke to some leading institutions in Sweden to ask how they have been affected by the global coronavirus crisis. We asked the following questions:
1. How has your organisation been affected by the coronavirus crisis?
2. What does the near future look like for your activities and the organisation more generally, both with regard to employment and public programming?
3. Have you or will you make any long-term changes to the programme, organisation, or the institution's budget/finances?
Gitte Ørskou, Director, Moderna Museet, Stockholm
1. Yesterday we made the decision to close the museum to the public. We had already cancelled all the guided tours and the openings, such as the one for the John Baldessari exhibition that was meant to open this Saturday 23 March. The Hilma af Klint show that was scheduled to open in Malmö 4 April will be cancelled or postponed, a final decision hasn't been made yet. The museum as a meeting place for people doesn't work anymore when we all have to keep our distance. This has consequences for the museum's finances and our operations more generally, as is the case for all institutions. Perhaps we will have to work at a different pace than before when planning exhibitions in the future, it remains to be seen what the more long-term consequences are.
2. We have started doing "Sofa tours," digital guided tours that we broadcast live from the museum. This is a way to continue our operations, both for the public and for our freelance staff.
3. No, not really. But we have been over a number of scenarios depending on what might happen in the near future.
Ben Loveless, Gallery Director, Galerie Nordenhake, Stockholm
1. We noticed very quickly that customers who were considering acquisitions either made the decision to postpone or withdrew completely. The number of daily visitors of course quickly dropped – although there were more than twenty visitors to the gallery last Saturday, which surprised me. But every day means more drastic news and actions. Almost every email we receive is related to the coronavirus. But the phones are completely silent.
2. The gallery is open only by appointment. The staff will work from home and/or be in the gallery and work with administrative tasks one at a time. We will maintain normal employment and freelance levels for the foreseeable future.
3. We have extended our current exhibition with Håkan Rehnberg (which is open by appointment), and postponed the opening of Lap-See Lam, which will be announced when we can plan ahead and the situation has somewhat stabilised. Right now we are rearranging the autumn programme, but since it hadn't yet been announced there's no need to communicate that at this time.
Andreas Ribbung, Creative Director and founder, Alice Máselníková, Creative Director & Pontus Raud, Creative Director and founder, Supermarket, Stockholm Independent Art Fair
1. We had come a long way in the preparations when we made the decision to reschedule the fair for this fall. There are substantial consequences for as since a large majority of the participating galleries at Supermarket come from abroad, not to mention the restrictions on public events, which are likely to remain in place at the end of April. The decision to postpone is fully supported by exhibitors and contributors.
2. What has happened requires a great deal of individual communication with exhibitors and other participants who have booked trips and accommodation. Up to 150 artists had planned to come to Stockholm on 23–26 April. And we've also been in touch with embassies and cultural organisations that have supported exhibitors. Many of our team have already done most of the planned work and now need to be engaged for the extra work that is to come. We hope that as many exhibitors and other participants as possible can come this fall, but we expect that a large part of the programme will have to be changed. We also need to find a new venue, which will not be easy.
3. We can't just change our explicit focus on international exchange or the objective of reaching a large, broad audience – presently all risk factors. To cope with such a situation, we would need to be flexible in a way that is impossible with so many involved and such extensive preparations required. Now we are hit very hard financially because so much work has to be done and because our expenses were already substantial. Even without the corona crisis, Supermarket doesn't necessarily break even every year. What makes us do this is the support of all the artists involved, who are as passionate about the project as we are.
Saskia Neuman, Director, Market Art Fair, Stockholm
1. During this past week, Market Art Fair has been working hard to find an alternative solution for the fair. Our priority is to follow the current guidelines and regulations of the Public Health Authority and the government to ensure the safety and well-being of all exhibitors, while guaranteeing the overall quality of Market Art Fair. As a first step we have moved the fair to 25–27 September.
2. We are working with preparing the fair in September and have currently not made any changes to our staff levels.
3. We are working with a focus on early fall, and in addition to this we are of course monitoring and analysing the situation as it develops.
Helena Vejbrink, Communications Officer, Bildmuseet, Umeå
1. We are currently working on upcoming exhibition productions as usual, mainly the American artist Faith Ringgold, which opens on 4 April. At the same time, of course, we want to contribute to limit the spread of infection and keep our visitors safe. We are open as usual and gallery staff are happy to tell you about the art, but to minimise the risks we have cancelled all adjacent programming. This applies to all events and guided tours as of Friday 13 March. For the safety of the museum visitors, we have, among other things, increased the cleaning frequency, and staff at Bildmuseet are no longer travelling outside Sweden.
2. Of course, we are prepared that, in the worst case, we may have to close completely, depending on how the rates of infection develop. We follow the recommendations of the Public Health Authority and the Ministry of Foreign Affairs, as well as the guidelines of our managing organisation, Umeå University. New decisions are made daily that we have to contend with.
3. This is a question for the museum director, but no such changes have been discussed . After this crisis we hope to be able to return to status quo. Bildmuseet is free to visit, so my assessment is that this crisis won't affect our finances to a greater extent.
Christel Lundberg, artist and chair of Galleri Rostrum, Malmö
1. There are direct consequences for the gallery: Rostrum can't participate in any external events this spring, such as Supermarket in Stockholm. We also can't host any exhibition openings or artist talks in the gallery. A planned exhibition with the Uruguayan artist Gerardo Mantero will go ahead, even though the artist can't travel to Sweden.
2. All our gallery meetings will be moved online, and we will, as it stands, also convene the annual member's meeting this way. Rostrum is run on a voluntary basis, so we have no employees. Our exhibitions will stay open, but we will not host events such as tours, talks, and openings that attract a lot of people. We have had to postpone events such as lectures and sound-art performances.
3. At the moment we are able to handle the situation with minor adjustments of our public events, but if stricter restrictions such as a quarantine are introduced, we may have to move planned exhibitions to later dates. We are currently quite flexible as we are a smaller artist-run gallery and can refocus fairly quickly.
Richard Julin, Artistic Director, Accelerator, Stockholm University
1. For us, it is important that art is present and the conversation around it continues in a situation where it is largely difficult to physically get to it. Right now it is becoming particularly clear that we need expressions of human creation and that we want to gather around them. Forced distancing creates, naturally, a desire for closeness, sharing… The situation has made us look for solutions to enable the conversations and meetings we want to create with our exhibitions and our public programming. We are working hard to hopefully contribute something positive in this difficult situation.
2. The author talk this Saturday 21 March, and the launch of the book Stridsskrift [Diatribe] will be live streamed on Facebook. The book is part of Johanna Gustafsson Fürst's exhibition Graft the Words, Whip My Tongue part 2. We aim to carry out this spring's planned events on questions about language and power relations online. The physical encounter with the art in the galleries, whether the konsthall stays closed, depends on Stockholm University guidelines. For the time being, we will be closed and do guided tours online.
3.We are, of course, keen that the art we exhibit can be experienced in place to the extent possible. This means that the exhibition we just installed, the second part of Johanna Gustafsson Fürst's, may be extended. As for the autumn programme, we have to be flexible about dates. All the work planning future exhibitions has of course been substantially affected by this. As I wrote above, our objective is to contribute to art being present and the conversation around it continuing – in this crisis, but also, of course, once we are through to the other side.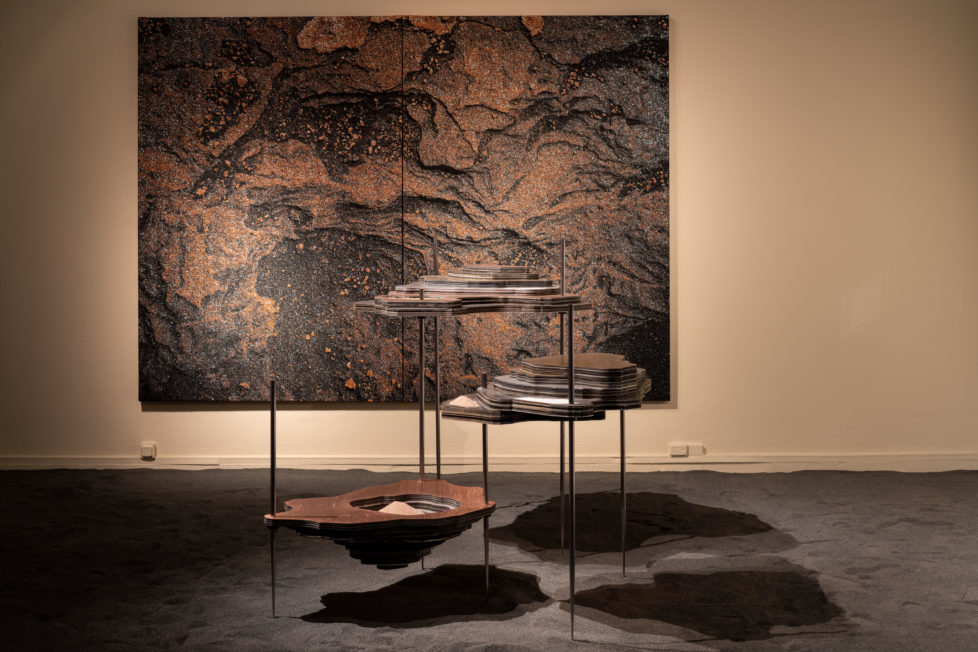 Stina Edblom, Artistic Director, Gothenburg Konsthall
1. This week we have decided to extend the exhibition Every Leaf Is an Eye that was supposed to have closed on 22 March. Instead it will remain open throughout the summer and until 30 August. After careful consideration and conversations with Valand Academy, we have jointly decided to cancel the student exhibition which would have opened on 4 April. Under current circumstances, we do not have the option to install it and see it through. The planned summer exhibition with the South African artist Kemang Wa Lehulere will be instead open in January 2021. The exhibition presents new and site-specific works that require the presence of the artist and his team, which is not possible under current travel restrictions.
As for other activities, we are currently not hosting any events, screenings, and workshops, but our hope is that we will soon be able to offer certain parts of our programme online.
2.We are experiencing a major fall-off both in terms of staff and visitors. Our priority is to keep the galleries open as usual during this troubled period. By extending Every Leaf Is an Eye and developing new strategies for showing art, we still hope to maintain a functioning konsthall. But of course it is a very strange time with new information and restrictions coming almost daily, which has required us to act quickly and adapt or rethink our plans according to prevailing conditions.
3. At present, we have mainly postponed events and exhibitions. We hope that we will be able to carry on as usual in the fall. We plan to open our autumn exhibition Our Sky Red with the artists Sara-Vide Ericson, Roxy Farhat, Gabrielle Goliath, Moa Israelsson, and Joanna Piotrowska on 19 September. Maybe we can also host our traditional summer party, which is normally held in June, in August instead. But this remains to be seen. We are keeping abreast of the situation and adapting accordingly. With regard to artists and other contractors, we try whenever possible not to cancel, but rather to postpone planned activities. When suitable we also look at online options. We are grateful during these times that our budget doesn't depend on ticket revenue – which is a major challenge for many arts and culture institutions around the country right now.
Elena Tzotzi, Co-director and curator, Signal – Centre for Contemporary Art, Malmö
1. We will adapt our activities to minimise the consequences. It is difficult to be more precise at the moment.
2. We cancelled Friday's opening (13 March) for the first part of our exhibition Malmö Trilogy with Selma Sjöstedt, Angelica Falkeling, and Sara Lindeborg. But the exhibition will be open during our regular opening hours until further notice. We have postponed all events such as lectures, film screenings, etc., to future dates. We are carefully following the current recommendations and adapting to them.
3. We will customise our activities so that nothing is cancelled or missed. Our audience will have the opportunity to take part of our programme either for an extended period or at a later date. No artist should suffer from a situation like this.