There is a timeline on the second floor of Gülsün Karamustafa's survey exhibition at Lund Konsthall, After the Cosmopolis, her first institutional solo show in the region. Designed by her husband, Sadik, it pairs milestones in the artist's life with major political events in her native Turkey and features, among other visuals, newspaper clippings, personal photographs, and images of artworks. The cumulative result is both a condensed history of the Republic of Turkey from 1923 to the present and a portrait of an artist whose oeuvre is marked by the legacy of the Kemalist state.
After the Cosmopolis
Gülsün Karamustafa
Lunds konsthall, Lund
—
Curated by Charles Esche for Van Abbemuseum in Eindhoven – where it was shown alongside a solo presentation by Argentine artist León Ferrari (1920–2013) under the joint title Parallel Lives, Parallel Aesthetics – After the Cosmopolis presents Karamustafa's practice as one developed in the aftermath of events. More precisely, it suggests that her wide-ranging oeuvre, which spans painting, installation, and video, is best understood in relation to a series of ruptures: before and after the military coups in 1971 and 1980; before and after the fall of the Soviet Union and the rise of the populist and ultra-nationalist Justice and Development Party (AKP), to name just a few. Indeed, the show's title alludes to the country's post-cosmopolitan and post-historical, that is to say totalitarian, condition exemplified by the now decade-long culture war waged by AKP chairman President Recep Teyyip Erdoğan on Turkish artists, activists, and intellectuals, among others.
True to the show's original framing, which emphasised the artist's struggles for freedom of speech, there is a sense in which we are encouraged to read Karamustafa's work as a response to the threat of government censorship (as well as self-censorship) and the policing of aesthetics and visual culture. This is bolstered in Lund by the addition of several of the artist's more overtly political works not on view in Eindhoven, including her famed series 'Prison Paintings' (1972–1978), shown here – for better or for worse – in reproduction courtesy of Tate Modern, where they are currently on display. Depicting mostly women and children, these graphic yet intimate and emotionally nuanced images are based on memories from the artist's six-month imprisonment for "aiding and abetting" following the military coup in 1971.
Karamustafa's experience in prison also provides the basis for one of the show's more compelling works, again included specifically for this occasion. Tucked away inside a corner gallery and displayed on a CRT monitor, the black-and-white single-channel video The Making of the Wall (2003), features testimonials from former inhabitants of Turkish women's prisons. Filmed inside their homes, the women speak candidly about their lives as political prisoners. Remarkably, they seem to fondly recall the solidary and sociable routines that they and their fellow inmates developed while incarcerated. Yet, upon recounting the deteriorating conditions for prisoners during the 1980s, one of the women reflects that, in a place where isolation, deprivation, and torture had become commonplace, the most unbearable violence was being separated from her books.
Although Karamustafa's work resists such easy periodisation, this dialogue between 'early' and 'late' works is one of the exhibition's most poignant and fully realised. Less developed are the ways in which concerns manifested in these works extend towards the artist's inquiry into Pop sensibilities and provincial kitsch, which she connects to the visual culture of Anatolian migrants in Istanbul. Works on paper such as the excellent Let Sorrows Wash Over Me and Who Has the Right to Make Me Cry (both 1981) combine the Social Realist aesthetic of the artist's youth with allusions to popular music in ways that critically undermine the claims of both. The stakes, however, are less clear in works such as the mixed-media installation The Cabinet (2000–2020), a bureau filled with culture-industry detritus including dolls, toys, and religious figurines. Flanked by détourned wall hangings featuring images of the Virgin Mary and an Amazon charging towards us in a chariot drawn by leopards, wolves, and bears (Postposition, 1995), these works seem to gesture less towards women's empowerment or ethnic diversity than to the aesthetics of populism.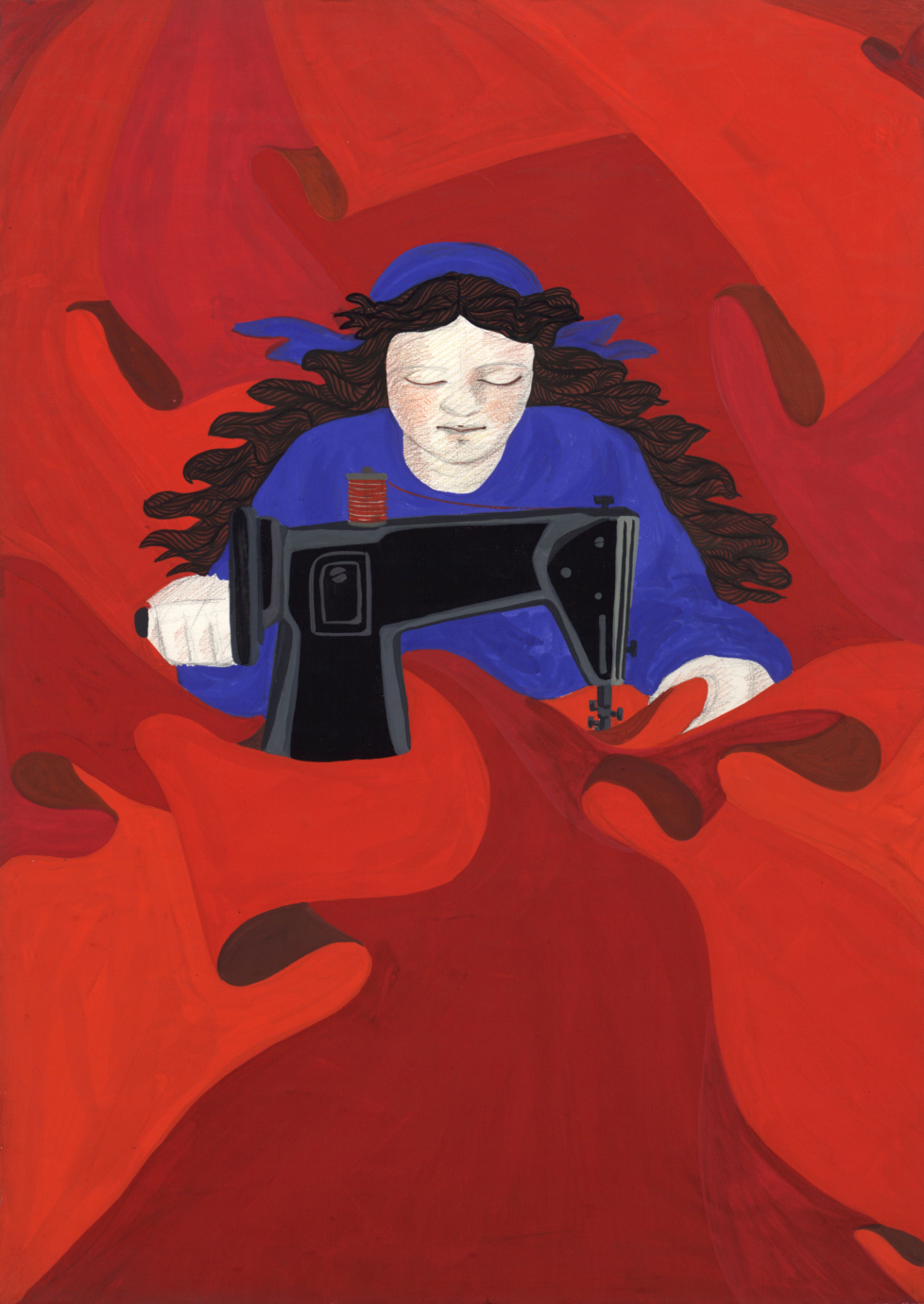 As Adorno argued, everything is equally close to the centre in a capitalist totality – even kitsch. It may actually be closer in Turkey, where, according to a recent report by art critic Erden Kosova, it seems to have attained something of an official status. What is the dialectic of the leopard print featured in the video The City and the Secret Panther Fashion (2007) in a context where government officials urge young people to learn history from state-produced soap operas? Of what import is Istanbul's erstwhile cosmopolitanism – or, for that matter, that of the Ottoman era – in a country where replicas of sixteenth-century mosques now occupy the ground where early-Republican era architecture once stood? The exhibition brackets questions such as these, opting instead to underscore kitsch as a means to self-fashion and, as the catalogue essay puts it, "claim an identity beyond the socially acceptable."
It is no wonder that, working in a city besieged by political violence, Karamustafa would embrace a model of resistance that favours ethics, conviviality, and incremental change (what curator Vasif Kortun somewhat paternally describes in a 2019 essay in Afterall as her "life of care") over party politics, grand revolutionary gestures, and heroic interventions in public space. Just so, this presentation is mercifully low on propaganda. Still, the overall impression is a tad underwhelming.