"Museum lent artist 84,000 US dollars. The artist kept the money," reads the headline of one of the many articles published in the last few weeks since the public became acquainted with Jens Haaning's new work Take the Money and Run. The Frankfurter Allgemeine, CNN, The Guardian, and even Chinese, Australian, and Indian media have been keenly interested in how DKK 500,000 in cash was supposed to be part of a work of art exhibited at Kunsten in Aalborg, but is now gone.
The original plan was for the museum to display two of Haaning's older works in the exhibition Work it Out, which is about modern working life. The two works present the average annual income in Austria and Denmark, respectively, by exhibiting the full cash amounts (one in euros, the other in Danish kroner) in the form of banknotes placed in frames and set behind glass – a very direct and concrete demonstration of what the average annual income in the two countries looks like. But when the museum opened the shipping crates a few days prior to the opening, it found only two empty frames and no trace of the DKK 534,000 (approximately EUR 71,200) that the museum had transferred to Haaning in order for him to recreate the earlier works. At this point, the artist sent an email to the museum, announcing that he had elected to create a new work instead of the planned piece, albeit one that still relates to the exhibition concept.
As of writing, the museum has chosen to go along with this. The empty frames are now on display in the exhibition alongside the artist's explanatory email. Director Lasse Andersson has stated that he expects to get the money back in mid-January when the exhibition closes. According to Haaning, however, Andersson shouldn't count on that happening. The artist states that the work of art consists in him having taken the money, not least in order to raise awareness of the working conditions of artists.
Few things get people more excited than money, which Haaning knows full well. For more than two decades he has created art that is not just metaphorically about money and value, but incorporates actual banknotes as a medium, often framing them and displaying them in true Scrooge McDuck style.
Haaning's very first work to incorporate banknotes, 2000 German Marks, is from 1997 and comprises a bundle of money framed as if it were a kind of certificate. At the top are two 100 mark banknotes, beneath which are photocopies of more notes of the same kind. The work was made with money that Haaning had received from his German gallerist, Mehdi Chouakri, as payment for a sale. Among other things, the multiple references point to the certificates that art galleries issue in connection with sales as proof of authenticity and ownership. Here, the two things, work and certificate, are conflated into a single entity. The question of what it means that the work doubles as its own certificate is typical of Haaning's conceptual and slightly headache-inducing way of turning economic structures and artistic discourses topsy-turvy. Things get no less complicated when you dive into the new work, Take the Money and Run.
Journalists use the term "following the money" as a useful approach for anyone seeking to connect the dots and arrive at the truth about a given matter. Perhaps it would make sense to apply the same principle when talking about your new work. If we focus on the amount that has made headlines in media across the world last week – USD 84,000, EUR 74,000, or DKK 534,000 – we also follow the creation of the work. Could you take us through the entire process?
It all began in November last year with the museum contacting me. They wanted to exhibit the work En gennemsnitslig dansk årsindkomst (An average Danish annual income) from 2010. I think it's a great idea and suggested – without any ulterior motives whatsoever – that it might be interesting to show all three works in the series.
There's an Albanian version, an Austrian one, and a Danish one, all tallied up and presented in the local currency – except the Albanian version, which is shown in dollars, USD 1,933. When estimating the average annual income in countries such as Denmark and Austria, the banking authorities are involved. That is not the case with Albania. In that case, the annual income is determined by the World Bank and the international community. This holds true for a number of Eastern European countries: if they don't behave, the authorities might reduce their estimated annual income by 10 per cent – in which case, all the American investments will head straight for a neighbouring country.
In Denmark, we think of this kind of thing as a transparent, perfectly straightforward calculation that involves Statistics Denmark and all sorts of other eminently respectable and credible institutions. But really, it's a sleight of hand, a politically determined figure. For example, I don't think that Denmark could ever be seen as so badly behaved that our average income rating got slashed by international authorities – after all, we belong to the group of Western countries who calls the shots. After the Albanian pyramid schemes and countless political and economic crises, Albania doesn't really get a say anymore. They just have to comply with whatever the UN, the World Bank, the United States, China, and Denmark say.
The Albanian version was the first in the series?
Yes, it's from 2005; it was made for the Tirana Biennale that same year and curated by Hou Hanru, who is a hardcore, gutsy curator who's not afraid of the visual. There's such a great feel to the space whenever he installs something, probably because he is a former artist. The work was exhibited at the Cultural History Museum, placed on an easel in front of Russian icons. It was very beautiful; there was this kind of mahogany easel with almost USD 2,000 mounted in a frame that almost lay on top of the icons.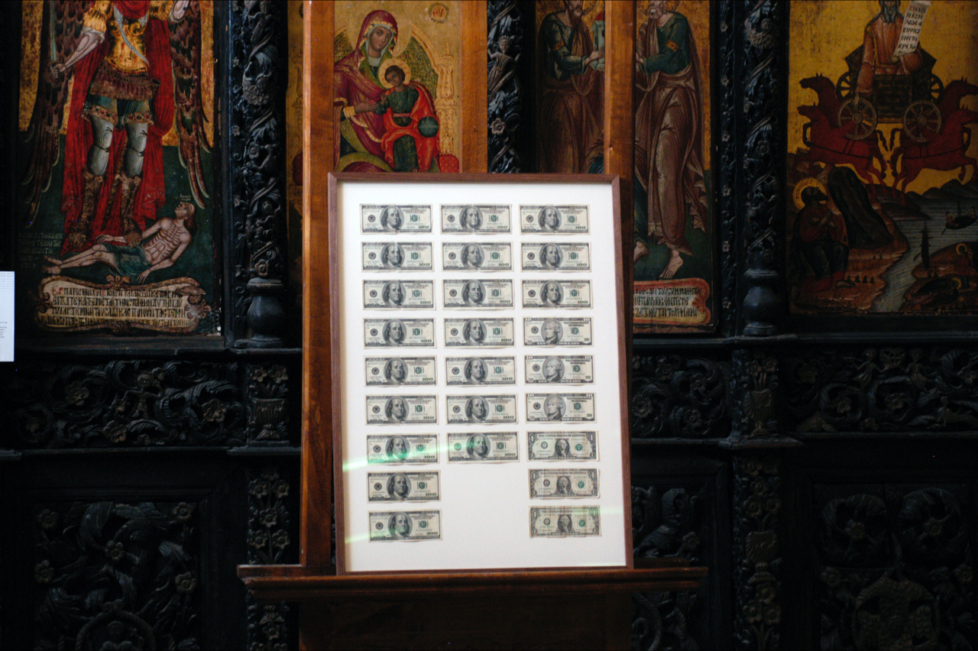 Sadly, it soon became clear that we couldn't show the Albanian work in Aalborg because the frame is in a warehouse in France and this was during the Covid pandemic, and it would be difficult, time consuming, and expensive to get out of storage and have it sent to Denmark.
Is it crucial to have the works displayed in their original frames?
Yes, the works must be displayed in their original frames. The two frames now on show at the museum in Aalborg are the original ones from 2007 and 2010. Through the glass, you can see remains of the glue used in the previous installations. The plan was to make a new edition of the Danish work based on the latest income statistics.
OK, so you figured out you needed DKK 534,000 to recreate the two works?
No, no, no. I calculated that I needed DKK 605,211, which the museum was to transfer to my account. That amount covers the cash to be framed, plus the actual framing, shipping, a per diem allowance, and hotel accommodation for eleven nights. This was during the Covid pandemic, so my assistant and I had to be quarantined in Berlin before we could even go to the guy making the frame. The cost of the frame alone is substantial; it's made with museum-grade glass by one of the best framers in the world. The large frame, which measures 1.5 x 2.5 meters with museum-grade glass, costs DKK 44,617, the same as EUR 6,000.
I don't quite understand. You already had both frames, didn't you?
I had to make a new frame for the Danish version. You see, the annual income had gone up since 2010, so I needed a bigger one with room for more money.
Ah, okay. So by this point you've drawn up a budget and get the full amount transferred from the museum?
Not quite, because the next thing that happens is that the museum says I have to advance the money for the production costs myself. They're only going to transfer an amount corresponding to the cash amount that's going to be framed. This means that I'll have to pay for the framing, hotel costs, etc. The expenses come to more than DKK 63,000 which I have to pay out of my own pocket without any reimbursement for almost three months. Of course, this does not include any fees for the time spent, neither for me nor for the assistant who will accompany me. So I'm pondering how I'm going to come up with that kind of money.
In order to do it all as cheaply as possible, I pre-booked the BKF (Danish Visual Artists) communal van well in advance, cleared my schedule and found someone who could take nine days off to help me. But then the museum transfers the money too late; the funds arrive two days after we were supposed to have left. This is where things collapse a bit. The BKF van is booked for the next several months. The summer holidays have just begun, everyone is heading out, and it's rather difficult to entice an assistant to go for a week's pizza quarantine at a hotel in Berlin. Lots of little problems like that pile up.
Is it also the case that you need to withdraw all the cash in Denmark before you depart?
Yes, because the thing that happened with the Austrian work was that the Vienna Secession transferred the money to my German account, and I ended up having to pay tax as if it were income. Also, you can't just take out that much cash in Danish currency in Germany. Back when I exhibited the Danish annual income at a gallery in Paris, my gallerist removed the money from the frame, and then I went on a one-day trip to Paris, put the DKK 350,000 in a computer bag and flew back home. By this point, I'm pretty cool about walking around with that much money on me.
By the time the money from the museum enters my account, I'm still mulling over how I'm going to raise the funds necessary to take the trip at all. And then my thought processes really kick in. You know, like whenever your schedule starts to slip, you need to think up alternatives. "Okay, the kids will have to have pizza; okay, okay, they can eat it in the car; okay, that way we'll make the ferry on time."
When did you decide that you didn't want to show the works as originally agreed?
I quite simply get a better idea. It's the summer holidays and I'm pretty sick and under the weather and ambling around aimlessly down at Møn [island south of Copenhagen]. I take a walk in the hills, think, try to take some time off and get all the restlessness out of my body, and then I just get a better idea for a work. And then there's just no going back.
I initially have some doubts about the idea because the whole thing is so unfamiliar to me. Instead of having to pull a whole lot of money out of my own pocket, I sense that this might just damn well turn a profit for me. That's when I get little suspicious. Have I compromised myself? Cut corners? Will this make me a sell-out? But I end up thinking it's actually a pretty okay work of art. Even though I've had a sinking feeling in my stomach for months. And thought about all sorts of scenarios. Could I really do this?
So how do you go on working with the new idea?
I have both of the original frames with me in Copenhagen, so I try out some different options; should they just be left empty, leaning against the wall, or should money be strewn across the floor? It becomes clear to me that the frames should neither stand on the floor nor be open; they should be closed properly, but still show traces of the glue used to mount banknotes and coins back when the works were last exhibited. So even though all that's left to do is to slam some backing onto two old frames, I head down to the framing company in Berlin I've worked with for twenty-five years so I'll know it's done right – also, I don't have the kind of suction cups you need to lift such a large, heavy pane of glass.
He cleans the glass, closes it all up again, and also changes one of the mouldings. After all, one of the frames has just been left standing around for fourteen years with no money in it. As soon as the frames are placed inside the professional shipping crates, no one will suspect a thing. It's the kind of place that also frames for the better class of gallery in Germany – works by Beuys, Richter, and Polke are shipped from there. So by virtue of the crates alone, my works become part of a rhetoric hinting that this could be worth millions. From this point on, I decide I need to see this through, let it all play out. For example, it shouldn't be me delivering the works myself in the borrowed BKF van, so it's agreed that the museum's shipping company will pick up the works in Berlin.
So when does the museum realise it has received another work?
The work is delivered on Wednesday morning, and I know very well how these things are done. The crates are placed in the room where the works are to be hung, and then they're not opened until everything is ready and the other, more technically demanding works are under control. At the same time, I'm aware that the framer and the shipping company might both be accused of having taken the money, and I don't want them to get into trouble.
Around noon that day, I send the museum an email to explain about the new work. This is the email the museum has placed next to the works in the exhibition. It's a short, formal message that explains about the new work, its title, materials, and things like that, and how it relates to the exhibition concept and has ties to the original works.
Now we have followed the money through the process. Let's talk about the title of the work, which in its entirety reads: Take the Money and Run (an Average Austrian year Income, 2007 and an Average Danish year Income, 2010). That's almost an imperative. You were interviewed on Danish ratio, encouraging others who face poor working conditions to do the same. Could you elaborate on that?
I just mean that all people, no matter what structure they are part of – whether it is a working relationship or a marriage or a religion or whatever – that everyone needs to reflect on whether, for example, it's fair that you essentially pay to go to work. And if you're tangled up in unfair, unreasonable structures, then perhaps you simply ought to steal from the till and make a run for it.
Given the fact that you've delivered a work that deals with working conditions and value attribution, you've actually ended up working a lot for a museum which was not very well known outside of Denmark until now. You've given far more interviews than any institution could normally expect from an exhibiting artist. You have even made sure that all the excitement – the work – extends right up to the very last day of the exhibition, at which point the museum will probably get in touch with you. So by this point, you've actually done quite a lot of work on behalf of this exhibition. Have you thought about that?
The PR I've secured for the museum is worth significantly more than DKK 500,000. That much is obvious. But that's okay with me. One of my sources of inspiration for this work was the case with the ARoS museum in Aarhus where artists Sofie Mejlvang and Vibeke Hesselholdt were given a couple of candlesticks from the museum shop instead of exhibition fees. They conducted that case really well, and they certainly got the museum a lot of press – although it was negative press, of course – and without getting anything out of it themselves. I'm doing the opposite thing: I give the museum good press and I get something out of it myself.
Your work has been featured in media all over the world, even appearing in the children's TikTok channels. Even with decades of experience working with money as a material, did you ever anticipate that the work would meet with such a reception?
No, not at all. I'm really an old-fashioned artist, you know. My only thought was that I needed to make something really good for this exhibition. And then I just kept things to myself, really, not sharing it with anyone. Fourteen days before the vernissage, I broke my silence at a dinner party with a few friends. Their response was staggering, and they asked if I knew how good a story this is. That's when it started to dawn on me. Until then, I was just worried and pondered all these things all by myself.
But there is also something else I'd like to say about this work, which is not just about labour and value attribution, but about our expectations of art. When the Croatian artist Slaven Tolj was appointed to curate the Croatian pavilion in Venice in 2005, he gave a fantastic speech in which he expressed gratitude for the trust placed in him, after which he added that he had no idea what it was all going to be about, but one thing was for sure: "I will in no way meet your expectations and I will do everything in my power to disappoint you."
That statement has stayed with me for a long time, as an important statement and a good attitude. I love it. If art is to be utopian, don't do what is expected. It also reminds me of the curator Charles Esche, who in one of his books has described the relationship between artist and curator as "friendly enemies." I think that's very true, too. I've worked with many of the curators from the first large generation of curators from the 1990s. At one point, I also thought we were colleagues, or even friends, but we are not. We are constructive and courteous to each other, but basically we are enemies, "friendly enemies." That boxing match brings a lot of good.
Are you preparing for a legal aftermath or for being reported to the police?
I'm not thinking about that at all. I've got lawyers coming out of my ears. My Australian gallerist is one of the leading international art lawyers in the world. So I have free legal representation from here and to the gates of hell. Let them come.