At Olof Marsja's exhibition at Gallery Nevven in Gothenburg, the viewer is thrown back to art's magical origins. In the middle of the room is a trio of child-sized sculptures with the suggestive title Orakel (Oracle, 2021). Their smiling faces are cast in bronze, while their feet have been skilfully turned in alder wood, a reminder of Marsja's background in duodji, Sámi handicraft. The natural materials are combined with aluminium structures that make up the figures' frames. They are dressed in purple fur and fake designer clothes.
Triple 4
Olof Marsja
Nevven Gallery, Gothenburg
—
Although Marsja's sculptures can be said to have lives of their own, they don't appear particularly uncanny. I imagine them more as a collection of kind-hearted and somewhat humorous emissaries that appear on the border to the expanses of the magical world. It turns out to be almost impossible to resist the enchanting power of the oracles, and after a while it feels as though I'm not looking at them as much as they are scrutinising me with their enigmatic eyes. Indeed, their presence seems so natural that it wouldn't have surprised me if they had descended from their podium and walked off, back to their unknown land of twilight.
In the Hellenistic tradition, the oracle was seen as an ambassador for the divine, but the communication that arises in the encounter with Marsja's works is gestural and does not seem to convey any messages. However, the works place the viewer in a state of religious reverence, though liberated from both belief and virtue. Paradoxically, that might be why the archaic revelation of the oracle appears as contemporary as their 'designer' clothes, which make me think of these sculptures as representations of today's new spiritualism in art.
On the wall behind Orakel are four transparent face masks in silvered glass, which heighten the experience of being in a sacred space. More interesting is the assemblage Tiden (Time, 2021) which hangs on the opposite wall. Here, a greenfinch has been tucked headfirst into a hollow stick, from which a piece of a green The North Face windbreaker hangs tied in a scarf ring adorned with a carving of a reindeer.
Apparently, the greenfinch is now a red-listed species in Sweden. But a sentimental reading, the likes of which has flourished in the Anthropocene, seems misdirected in this case. Rather, I see the work as an icon for the quasi-religious art movement formed in Marsja's work, where the macabre animal sacrifice seems to match the enigmatic communication of the oracles.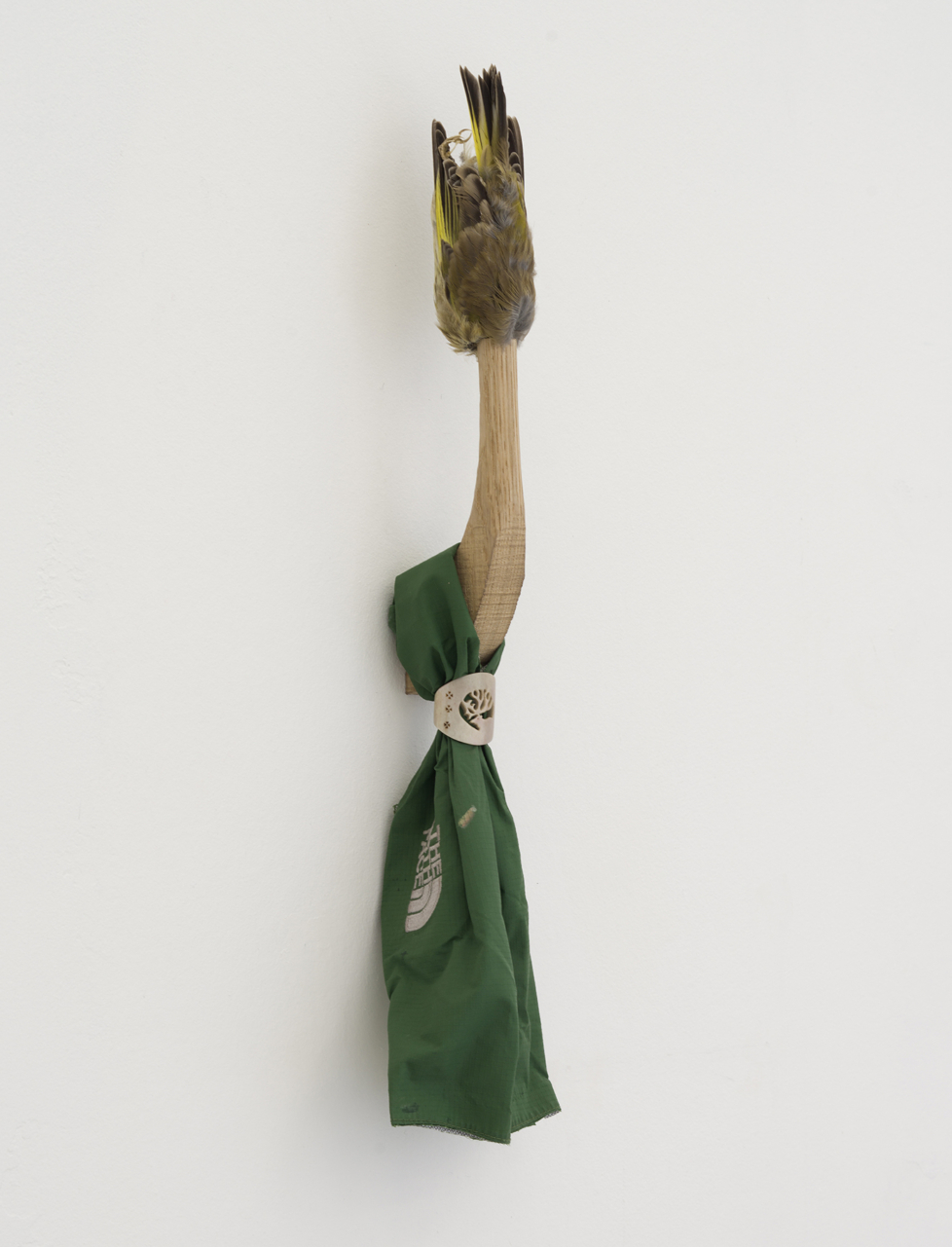 Encountering Marsja's works raises the question of the fetishisation that has often characterised the reception of Sámi art in the Nordic countries. In Sweden, this has meant that it has sometimes been highlighted as a varnish on majority culture, when criticism of the colonisation of Sápmi (the territory spanning Finland, Norway, Russia, and Sweden traditionally inhabited by the Sámi) fades into a self-redemptive reconciliation process. But even more genuine deep dives into the Sámi handicraft tradition risk leading to unreflective romanticism.
Therefore, it is interesting that Marsja – who studied both duodji in Jokkmokk and fine art at Konstfack in Stockholm – chooses to downplay his Sámi origins and instead prefers to talk about an intermediate relationship where the Sámi features are mixed with references from several other contexts. This does not give rise to a melancholic exploration of an oppressed identity, but shows the possibility of employing the Sámi heritage in creating figures whose claims to power transcend the human. Thus, Marsja's work lead neither to a consideration of Sámi history nor contemporary political challenges, but is a bold and elaborate attempt at using a suppressed history to engender a new understanding of art's transcendence.